Savour soft creamy ice as it slides down your throat and gives you a little iced cocktail rush. And, swish.
Tropical pineapple with a touch of white rum and citrusy lime in a creamy coconut to form cocktail Pina Colada Ice Cream.
This dish will smash your belief that vegan food can't be delicious.
Make this:
When you're on date #3 with your new beau/belle and a little push will get you on you to next base
When you've got the girls over for a chick flick night and diving into a tub of ice cream will get you on the way to nabbing the box of tissues
When it's baking outside, you've hit 5pm and need a little treat to cool you down but without undressing even further
Pina Colada was inspired by cocktails on the promenade with waiters darting around taking orders for 2 for 1 happy hour.
Pina Colada originates from Puerto Rican as freshly pressed pineapple coconut drink. It's the rum, coconut cream and pineapple which make up the Pina Colada. Traditional, Pina Coladas are naturally vegan using coconut.  While pineapple is high in Vitamin C, this dish naturally has alcohol in it.
Pina Colada Ice Cream is vegan, raw and paleo.
Love.
Edward x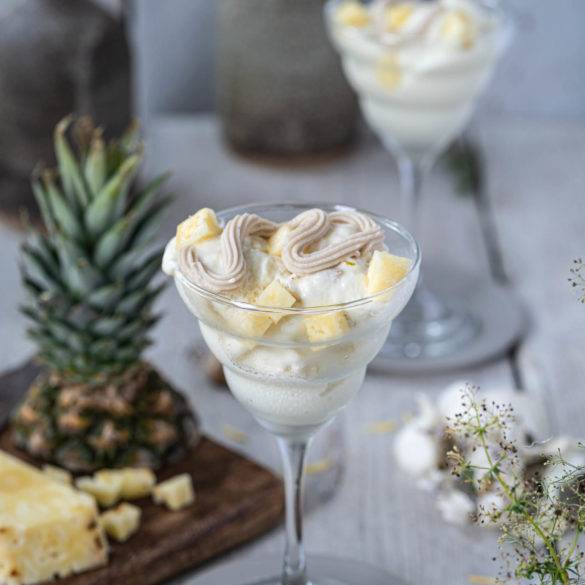 Ingredients
100g pineapple chunks

3tbs white rum

400ml coconut milk

200ml creamed coconut

½ lime, juice

Pinch of salt

½ tsp guar gum

½ tsp locust bean gum
Instructions
Whizz the ice cream ingredients in a high-speed blender until fine.
Transfer the ice cream ingredients to an ice cream maker and mix for 30 minutes. Place in a large plastic container.
Transfer the ice cream into a freezer until frozen.
Defrost as needed.
Serve.