Sweet citrus orange grenadine-soaked tart rhubarb topped with oat buckwheat coconut crumble; Rhubarb Crumble.
Activate your loins. And, mesmerise your tastebuds.
This dish will burst your belief that vegan food can't be simple to put together.
Make this:
When the Sunday roast beckons and you need a comfort sweet to digest it all. Plus, make way for that nice relaxing Sunday afternoon disco nap
When you've got lovely ole Aunt Betty nipping in for a cuppa. And, you need a lush wholesome dessert that'll have her smiling cheek to cheek
When you have a no-fuss dinner party; something that'll satiate your guests. And, moreover, a great way to round up the evening
Rhubarb Crumble was inspired by memories of my youth when I would be served this delectable dish at school. I remember it being in abundant supply and able to feed us all hungry mouths.
It is another one of my old recipes that I have revisited. What I love about this Crumble is the nutty texture of the buckwheat, which melts into the soft tart rhubarb. This Crumble is lush with either vegan custard or ice cream.
This dish is vegan, gluten-free and paleo.
What equipment to use 
For this recipe, I suggest:
High speed blender
Oven
What to do next
Tag me on @ethiveganquantum on Instagram to show me what you've made and let me know you're happy for me to share.
My recipes are featured in vegan speciality publications: Nourished, Vegan Life, Plant Based and Vegan, Food and Living.
Order my first self-published book, "Essence: The Beginner's Guide to Veganism" part of the three-part Circle of Food series. My second book "Presence: The Ascending Vegan" – which explores how to maintain a vegan practice is out in 2027 – I have compiled all the chapters including recipes.
Going strong since 2013.
Love.
Edward x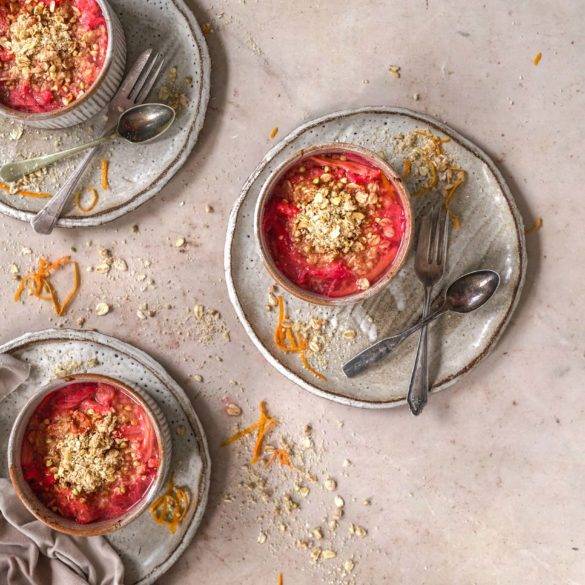 Ingredients
Base
600g rhubarb
125g unrefined cane sugar
150ml filtered water
1tsp grenadine
½ orange, juice and zest
Topping
100g buckwheat groats
100g oats
30g coconut oil
25g unrefined cane sugar
Instructions
Cut the rhubarb into thin strips in a baking tray in a single file. Sprinkle over the sugar.
Dissolve the grenadine in water. Pour over the rhubarb. Squeeze over the orange and toss in the zest. Leave to marinade for 30 minutes.
Preheat the oven to gas mark 180 degrees Celsius or if convection oven to 160 degrees Celsius.
In a high-speed blender grind the sugar, and half of the oats and buckwheat until fine.
In a large mixing bowl, mix together the buckwheat, oats, and sugar. Add the coconut oil. Using your fingers gentle mix the ingredients until the oil has melted in.
Transfer the rhubarb and liquid into a baking dish or alternatively ramekin dishes.
Sprinkle the crumble over the rhubarb. Cover with aluminium foil. Bake in the oven for about 20 minutes.
Serve hot with or without custard or leave to cool and tuck in with some ice-cream.