Mushroom and Potato Terrine is one of those easy on the mouth-watering accompaniment to a wholesome dish. I love how it can supplement a roasted root vegetable or even a stew.
What to do next
Tag me on @ethiveganquantum on Instagram to show me what you've made and let me know you're happy for me to share.
My recipes are featured in vegan speciality publications: Nourished, Vegan Life, Plant Based and Vegan, Food and Living.
Order my first self-published book, "Essence: The Beginner's Guide to Veganism" part of the three-part Circle of Food series. My second book "Presence: The Ascending Vegan" – which explores how to maintain a vegan practice is out in 2027 – I have compiled all the chapters including recipes.
Going strong since 2013.
Love.
Edward x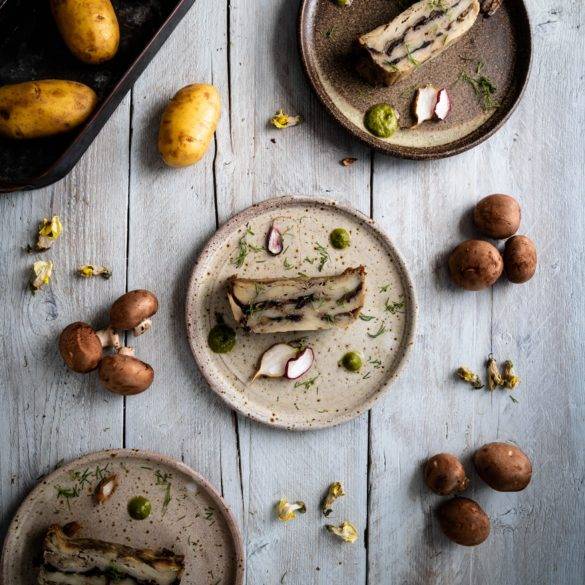 Ingredients
For the potatoes
1kg potatoes
50g oats
150ml filtered water
Few sprigs of rosemary
Pinch of salt
250g mushrooms
50g olive oil
Instructions
Pre-heat the oven to gas mark 180 degrees Celsius or if you have a fan oven 160 degrees Celsius.
Slice the mushrooms thinly and soak in the oil. Set to one side.
Blitz the oats, water, rosemary and salt in a blender. Place into a mixing bowl.
Remove the skin of the potatoes and slice with a mandolin. Cut into small chunks. Soak the potato in the rosemary mixture.
Line a loaf baking tin with baking paper. Layer in the first set of potatoes. Then layer in the mushrooms. Keep layering toping with the potatoes. Keep it to five layers in total – three of potato and two of mushrooms.
Cover with another loaf baking tin containing baking beans and roast in the oven for about 1 hour and 30 minutes.
Remove from the oven. Turnover and carefully cut.
Serve warm.