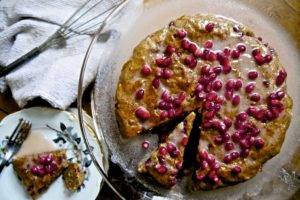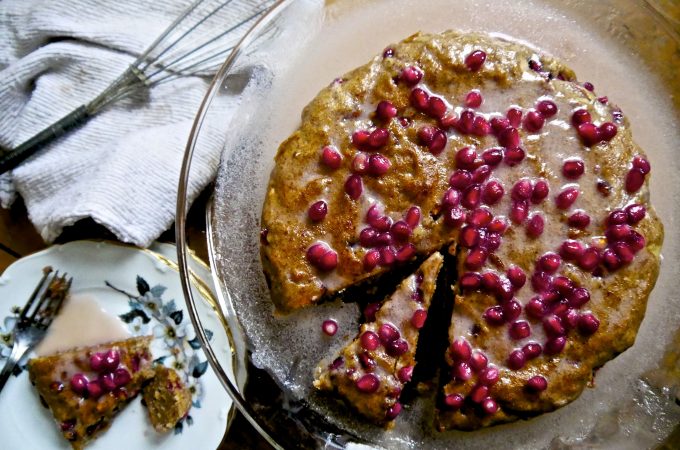 Pomegranate Cake
Pomegranate cake came about because I wanted to create something special for a friend that was coming over to help out with refocusing back onto cooking. I love the crunchy taste of pomegranates in any event and combined with the orange this creates a refreshing taste especially when found in a cake such as this.
Recipe type:
Dessert, Cake
Ingredients
3tbs flaxseed, ground
50ml water
300g "00" doppio flour
150g coconut oil, melted
1 orange juice, and zest
75g unrefined cane sugar
1tsp vanilla extract
½ tsp almond essence
½ tsp salt
250g pomegranates
Frosting
200g vegan cream
50g unrefined cane sugar
1tbs tapioca flour
Instructions
Preheat the oven to 170 degrees.
Soak the flaxseed in water and leave to one side.
Place flour and oil in a food mixer and using a dough hook combine.
Add in the orange zest and juice, sugar, vanilla and almond extracts, and salt.
Add in the flaxseed and water to the dough.
Switch off the mixer and fold in 200g of pomegranate. Retain the remainder for garnishing.
Line a 9 inch circular cake tin with some olive oil. Place parchment paper round the tin so that it covers the edges.
Fold in the dough mixture into the tin. Cover with aluminium foil for about 1 hour. The cake is baked once a skewer placed into it comes out clean.
Allow to cool for about 5 minutes before removing the cake from the tin. Place on a serving dish.
To make the frosting, melt the vegan cream in a saucepan. And the sugar. Stir for a few minutes under a medium heat until absorbed. Sift in the tapioca flour. Continuing stirring gently for a few minutes.
Allow the frosting to stand for about 10 minutes before pouring onto the cake. Garnish with the remaining pomegranate.
Serve.