Pan Fried Marinated Vegan Scallops sweated in sesame, mirin, maple and a pinch of lavender-like Sichuan pepper polished with citrusy lemon and sea salty nori.
Make this:
When you're looking for a light main to complement a handful of rice grains or salad
When you're wanting a quick and dirty dish after a busy day at work
When you're needing a starter that wets your appetite and gets those saliva juices started
What to do next
Tag me on @ethiveganquantum on Instagram to show me what you've made and let me know you're happy for me to share.
My recipes are featured in vegan speciality publications: Nourished, Vegan Life, Plant Based and Vegan, Food and Living.
Order my first self-published book, "Essence: The Beginner's Guide to Veganism" part of the three-part Circle of Food series. My second book "Presence: The Ascending Vegan" – which explores how to maintain a vegan practice is out in 2027 – I have compiled all the chapters including recipes.
Going strong since 2013.
Love.
Edward x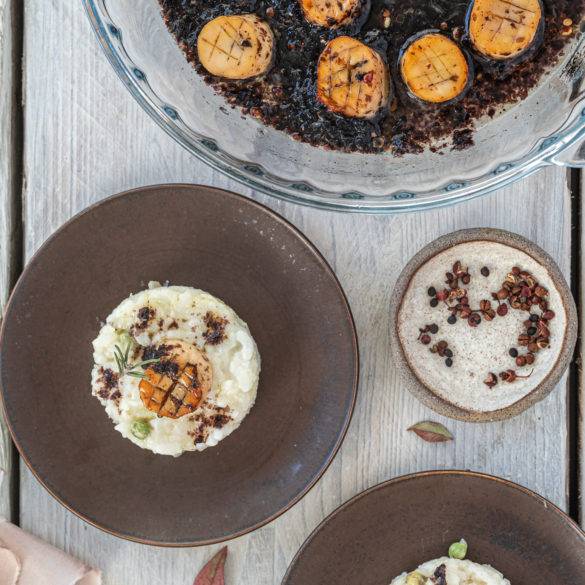 Ingredients
250g King Oyster Mushrooms
For marinade
2tbs rice mirin
1tbs sesame seed oil
1tbs maple syrup
1 lemon, juice
1tbs nori/laver, dried and grounded
Pinch of salt
Pinch of Sichuan pepper
Oil for frying
Instructions
Cut the King Oyster Mushrooms in strips. Take each strip and then criss-cross with a knife only just beneath the surface.
Make the marinade by combining together the marinading ingredients. Place in a mixing bowl.  Combine well.
Coat the mushrooms in the marinade and set to one side in a baking dish. Leave for a couple of hours. Reserve the marinade.
When ready to serve, pan fry the mushrooms in oil.
Serve the mushrooms with the marinade with noodles or rice.