Pan Fried Vegan Scallops are one of those lush simple recipes to put together. I use King Oyster Mushrooms as the substitute for this lovely shellfish and nori/laver seaweed which gives it an umami flavour.  A touch of Sichuan pepper adds a little depth. I just love this dish because all that needed is marinating the mushrooms first and when ready, pan frying. Looks divine when dished up.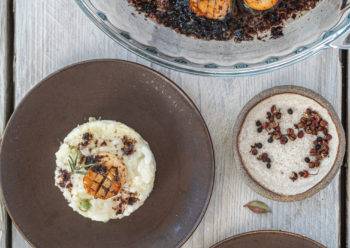 Ingredients
250g King Oyster Mushrooms
For marinade
2tbs rice mirin
1tbs sesame seed oil
1tbs maple syrup
1 lemon, juice
1tbs nori/laver, dried and grounded
Pinch of salt
Pinch of Sichuan pepper
Oil for frying
Instructions
Cut the King Oyster Mushrooms in strips. Take each strip and then criss-cross with a knife only just beneath the surface.
Make the marinade by combining together the marinading ingredients. Place in a mixing bowl.  Combine well.
Coat the mushrooms in the marinade and set to one side in a baking dish. Leave for a couple of hours. Reserve the marinade.
When ready to serve, pan fry the mushrooms in oil.
Serve the mushrooms with the marinade with noodles or rice.
Notes
By Edward Daniel, Vegan Chef and Former Chair of The Vegan Society. Contributor to Vegan Life Magazine, Plant Based Magazine, Vegan Food and Living Magazine and OK! Magazine. Speaker and cooking demonstrator at Vegan Life Life Festival London, Mind Body and Spirit Festival London, Veganes Sommerfest Berlin, and Bali Vegan Festival. Author of "Essence: The Beginner's Guide to Veganism".