Potato Pave is one of those great appetising dishes. I love Potato Pave for its elegance and crunchy taste.  The rosemary really lifts this dish too.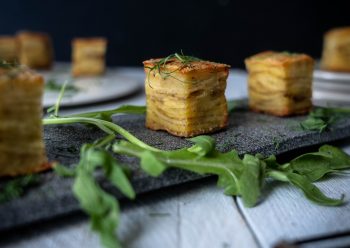 Ingredients
1kg potatoes
50g oats
150ml filtered water
30g olive oil
Few sprigs of rosemary
Pinch of salt
Instructions
Pre-heat the oven to gas mark 180 degrees Celsius or if you have a fan oven 160 degrees Celsius.
Blitz the oats, water, oil, rosemary and salt in a blender. Place into a mixing bowl.
Remove the skin of the potatoes and slice with a mandolin. Cut into small chunks. Soak the potato in the rosemary mixture.
Line a loaf baking tin with baking paper. Layer in the potatoes.
Cover with another loaf baking tin containing baking beans and roast in the oven for about 1 hour and 30 minutes.
Remove from the oven and once cooled, place in the fridge overnight.
The following day into squares and coat with olive oil and roast for another hour.
Serve warm.