Floral woody rosemary scented crunchy compressed potatoes, slow-baked and pressed in olive oil; Potato Pave.
Devour something soft and crunchy. And, inhale.
This dish will topple any belief that you can't make vegan food without some simple ingredients you probably already have at home.
Make this:
When you've an elegant dinner party organised and an appetising dish on the side will have your guests uplifted
When you've just had a win at work and a little something special will have your feet lifted off the ground
When you're fed up with just chips or boiled potatoes and need a crunchy potato that'll have you up elevated
Potato Pave was inspired when cooking up dinner for guests while at a country manor in Northumbria – and dishing up potatoes in an unique way.
Pave is derived from the French word "cobblestone" and used to describe rectangular/square layered food.
Potato Pave is vegan and gluten-free.
What to do next
Tag me on @ethiveganquantum on Instagram to show me what you've made and let me know you're happy for me to share.
My recipes are featured in vegan speciality publications: Nourished, Vegan Life, Plant Based and Vegan, Food and Living.
Order my first self-published book, "Essence: The Beginner's Guide to Veganism" part of the three-part Circle of Food series. My second book "Presence: The Ascending Vegan" – which explores how to maintain a vegan practice is out in 2027 – I have compiled all the chapters including recipes.
Going strong since 2013.
Love.
Edward x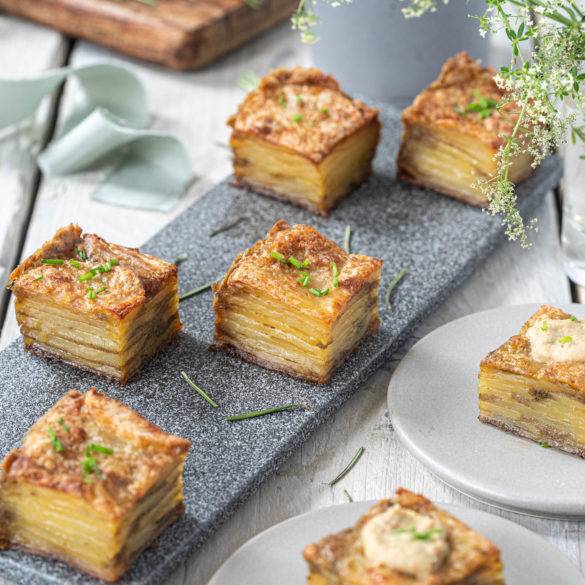 Ingredients
1kg potatoes

75g oats

225ml filtered water

45g olive oil

Few sprigs of rosemary

1/2tsp salt
Instructions
Pre-heat the oven to gas mark 180 degrees Celsius or if you have a fan oven 160 degrees Celsius.
Blitz the oats, water, oil, rosemary and salt in a blender. Place into a mixing bowl.
Remove the skin of the potatoes and slice with a mandolin. Cut into small slices.  Soak the potatoes in fresh filtered water.
Once all sliced, by batches soak the potato in the rosemary mixture.
Line a loaf baking tin with baking paper. Layer in the potatoes.
Cover with another loaf baking tin containing baking beans and roast in the oven for about 1 hour and 30 minutes.
Remove from the oven and once cooled, place in the fridge overnight.
The following day cut into squares and coat with olive oil and roast in the oven uncovered for another hour until golden brown at the same temperature above.
Serve warm.