Roasted Potatoes with Peas is another of my simple dishes. I cook the potatoes in a rosemary sauce before garnishing with fresh peas and dill. It is a humble appetising side dish that stands out.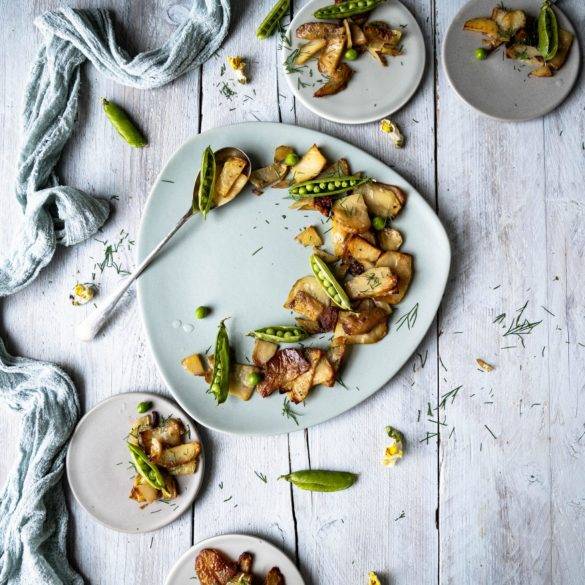 Ingredients
For the potatoes
1kg potatoes
50g oats
150ml filtered water
30g olive oil
Few sprigs of rosemary
Pinch of salt
200g peas in a pod
Few sprigs of dill
Instructions
Pre-heat the oven to gas mark 180 degrees Celsius or if you have a fan oven 160 degrees Celsius.
Blitz the oats, water, oil, rosemary and salt in a blender. Place into a mixing bowl.
Remove the skin of the potatoes and slice with a mandolin. Cut into small chunks. Place into the rosemary mixture.
Roughly layer the potatoes into a large baking tray and roast in the oven for about an hour.
De-pod the peas.
Place the potatoes into a serving dish and sprinkle on the dill and garnish with the peas.
Serve.
Notes
By Edward Daniel, Vegan Chef and Former Chair of The Vegan Society. Contributor to Vegan Life Magazine, Plant Based Magazine, Vegan Food and Living Magazine and OK! Magazine. Speaker and cooking demonstrator at Vegan Life Life Festival London, Mind Body and Spirit Festival London, Veganes Sommerfest Berlin, and Bali Vegan Festival. Author of "Essence: The Beginner's Guide to Veganism".