Pumpkin Cake makes for a delicious moist treat.  I love how the cinnamon and cardamon add a little spice to this cake.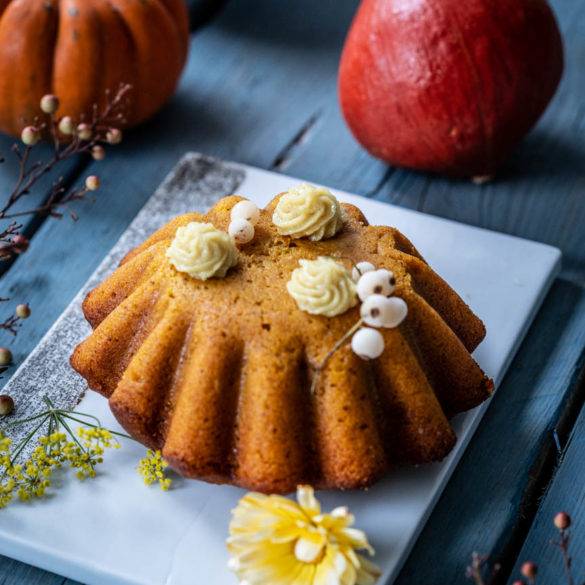 Ingredients
400g pumpkin
200g polenta
100g millet
3 cardamon pod, seeds
1 cinnamon stick
200g raw unrefined cane sugar
50g flaxseeds
200ml filtered water
2tsp baking powder
Pinch of salt
100ml olive oil
Instructions
Pre-heat oven to 180 degrees Celsius or if you have a convention fan, to 160 degrees Celsius.
Place the pumpkin a baking tray and bake for 45 minutes. Remove and allow to cool. Discard skin and seeds and weigh 400g of pumpkin flesh.
In a high-food processor grind the polenta, millet, cardamon seeds, cinnamon, sugar and flaxseeds until fine. Place in a large mixing bowl.
Blend the pumpkin flesh with water until well combined. Add to the polenta mixture.
Stir in the baking powder, salt and oil. Combine well.
Line a cake tin with oil.
Bake in the oven for 45 minutes until a dry skewer runs through.
Remove from the oven and allow to chill.
Notes
By Edward Daniel, Vegan Chef and Former Chair of The Vegan Society. Contributor to Vegan Life Magazine, Plant Based Magazine, Vegan Food and Living Magazine and OK! Magazine. Speaker and cooking demonstrator at Vegan Life Life Festival London, Mind Body and Spirit Festival London, Veganes Sommerfest Berlin, and Bali Vegan Festival. Author of "Essence: The Beginner's Guide to Veganism".