Almonds and Walnut caramelised between pastry sheets with earthy cinnamon, cloves and nutmeg, and topped with pistachios; Vegan Baklava.
Tuck into something moreish. And, watch till you have your fill.
This dish will topple your belief that vegan can't be this super moreish.
Make this:
When only but the inkling of pure indulgence overwhelms you. As you rush to your nearest Turkish shop, you return laden with Yufka leaves. Nuts – check. Sugar – check. You are on your way to heaven
When you've got an avo party for you and loved ones. A dainty elegant sweet will go a long way. Just don't tell'em it was damn easy to put together. Otherwise, they'll be at your shirt-tails begging for more
When festivities are coming up and a bit of baked layered dough pastry will have thrilling with delight
Baklava was inspired by attending Turkish restaurants in my early 20s. I would love how this dessert, filled with chopped nuts and sweetened syrup would have me enthralled.
Vegan Baklava is one of those dishes which each of us can perceive with a different filter. I prefer my Baklava to be slightly moist, slightly crunchy and only slightly sweeter. Textures and colours enhance the look and taste. Great for afternoon snacks and for friends that happen to drop by.
Yufka pastry sheets are unleavened flatbread from Turkish cuisine. I love using them in my cooking as they are easy to handle. Use puff pastry as a substitute, if you are pushed.
I use panela for this recipe as I love how it caramelises as it gets baked. I get my panela from Sail Cargo that delivers in London and Kent. Check out Sail Cargo here.  I live in Highbury in London and what was amazing is they came to my door armed with the panela I had ordered. I got a personal delivery by bicycle by Gareth who lives in King's Cross. Nothing quite beats the hand and personal touch.
Baklava is vegan and Turkish cuisine.
What equipment to use
For this dish, I suggest:
Baking tray rectangle round 9 inches by 13 inches
Chopper
What to do next
Tag me on @ethiveganquantum on Instagram to show me what you've made and let me know you're happy for me to share.
My recipes are featured in vegan speciality publications: Nourished, Vegan Life, Plant Based and Vegan, Food and Living.
Order my first self-published book, "Essence: The Beginner's Guide to Veganism" part of the three-part Circle of Food series. My second book "Presence: The Ascending Vegan" – which explores how to maintain a vegan practice is out in 2027 – I have compiled all the chapters including recipes.
Going strong since 2013.
Love.
Edward x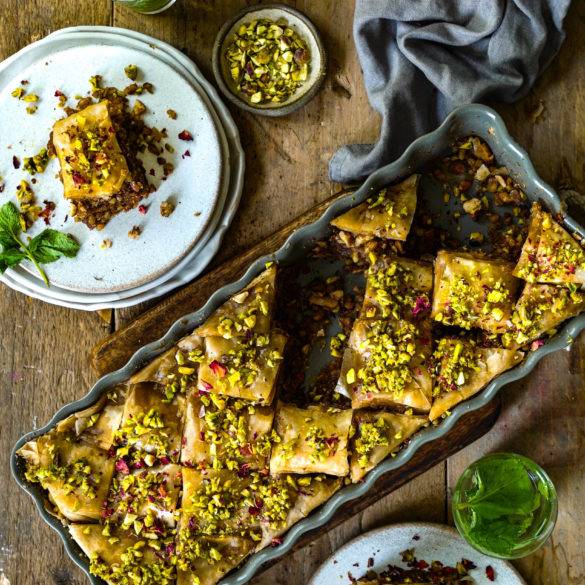 Ingredients
250g almonds

200g walnuts

½ nutmeg, ground

1 inch cinnamon, ground

6 cloves of India, ground

8tbs olive oil

500g Yufka Pastry sheets

300ml filtered water

200g unrefined cane sugar (note about panela)

50g pistachios, chopped
Instructions
Line a baking tray with oil and cover with baking paper.
Dissolve the sugar in the water in a small saucepan and set the syrup to one side.
Take 2 tbs of the syrup and place the pistachios in the syrup. Set to one side for later.
Pre-heat oven to gas mark 180 degrees Celsius or if a convention oven to 160 degrees Celsius.
In a food processor coarsely chop the walnuts and almonds. Remove and place in a large mixing bowl.
In a grinder, grind the nutmeg, cinnamon and cloves. Toss into the nuts. Mix well with a spatula
Place the olive oil in a bowl to the side.
Divide the Yufka leaves into four portions. Line the base of the baking tray with a quarter of the leaves. Use a pastry brush to baste oil over. Add the next half of the leaves.  Baste again with oil.
Scoop and spoon the nuts all over the base of baking tray. Equally cover all.
Take the third quarter of leaves and place on top of the nuts. Baste with oil.
Repeat same action with the remaining and top quarter. Taking a knife to cut the baklava into diamonds. Drizzle half of the syrup mixture on top.
Cover with aluminium foil and bake in the oven for about 20 minutes.
Remove from the oven and drizzle the remaining syrup. Return to the oven uncovered for a further 10 minutes. The top should have this beautiful golden colour.
Top with chopped pistachios.
Serve warm or cold on its own or even with cream or ice cream.