Quiche Provençale has this rustic look and tastes super yummy too. It makes for a wonderful picnic addition too. This gluten-free version of Quiche Provençale uses a combination of flours which lifts this quiche.
Blanched almonds, I purchase from a nifty Asian outlet in Hayes.  It has an online presence too which can be found here – I love it because it is reasonably priced and tends to be good quality stuff which I use.
What to do next
Tag me on @ethiveganquantum on Instagram to show me what you've made and let me know you're happy for me to share.
My recipes are featured in vegan speciality publications: Nourished, Vegan Life, Plant Based and Vegan, Food and Living.
Order my first self-published book, "Essence: The Beginner's Guide to Veganism" part of the three-part Circle of Food series. My second book "Presence: The Ascending Vegan" – which explores how to maintain a vegan practice is out in 2027 – I have compiled all the chapters including recipes.
Going strong since 2013.
Love.
Edward x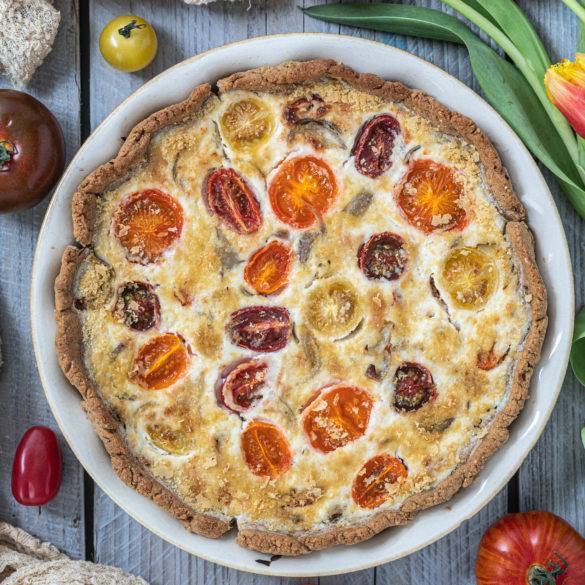 Ingredients
Pastry
Dry ingredients
85g chick pea flour
50g buckwheat groats
60g millet
25g oats
25g flaxseeds
1tsp unrefined cane sugar
Pinch of salt
50g tapioca
1tsp bicarbonate of soda
Wet ingredients
40g olive oil
100ml filtered water
½ lemon, juice
Filling
100g almonds, blanched
400ml filtered water
2tsp agar agar
2 shallots
1tbs olive oil
pinch of salt
2 cloves of garlic, chopped
300g variety tomatoes
15g nutritional yeast
Instructions
Make the dough my placing the buckwheat, millet, oats, flaxseeds, salt and sugar into a high-speed blender and blend until fine. Place in a large mixing bowl with chick pea flour, tapioca and bicarbonate of soda. Then add the wet ingredients, the water, oil and lemon juice. Mix well. Leave to rest for about 20 minutes.
Preheat oven to 180 degrees Celsius or if a convection oven to 160 degrees Celsius.
Line a 9-inch flan tray with olive oil.
Roll the dough by placing between two sheets of parchment paper and roll into a circle and slide into the flat dish and press around with the fingers. Prick the dough with a fork. Bake in the oven for 10 minutes and set to one side.
For the filling, place the almonds with water, agar agar and salt in a high-speed blender to form a cream. Blend until fine. Transfer to a sauce pan and over a light heat. Gently stir until it starts to thicken. Set to one side.
Sauté the onion in olive oil until translucent. Add in the garlic and 10g of nutritional yeast to the cream. Stir and pour onto the base of the flan.
Slice and litter the tomatoes evenly on top and back in the oven for about 25 minutes. After 20 minutes sprinkle the nutritional yeast.
Remove from the oven and set to one side at room temperature.
Serve at room temperature.