Tarragon Chestnut and Sweet Potato Cakes were created because I had a friend whom I hadn't seen for ages visiting from Saigon. These cakes have a subtle flavour to them. They make a great accompaniment or addition to a meal.
What to do next
Tag me on @ethiveganquantum on Instagram to show me what you've made and let me know you're happy for me to share.
My recipes are featured in vegan speciality publications: Nourished, Vegan Life, Plant Based and Vegan, Food and Living.
Order my first self-published book, "Essence: The Beginner's Guide to Veganism" part of the three-part Circle of Food series. My second book "Presence: The Ascending Vegan" – which explores how to maintain a vegan practice is out in 2027 – I have compiled all the chapters including recipes.
Going strong since 2013.
Love.
Edward x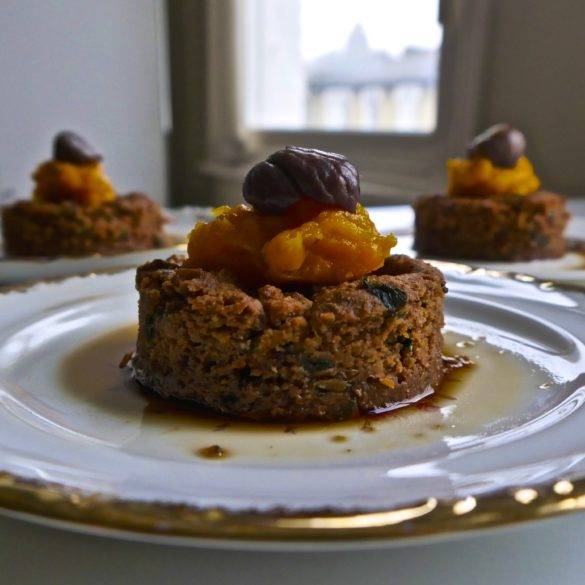 Ingredients
500g sweet potatoes
2tbs coconut oil
150g chestnuts
150g buckwheat flour
1tbs baking powder
250ml vegan cream
200ml vegan milk
2tsb apple cider vinegar
2tbs bicarbonate of soda
few sprigs of tarragon
2tbs olive oil
Instructions
Preheat the oven to 170 degrees Celsius.
Place the sweet potatoes in a oven proof dish. Baste with the coconut oil. Bake in the oven for about 45 minutes.
Puree the chestnuts in a food processor and place in a large mixing bowl with the flour, baking powder. Combine with the vegan cream and vegan milk to form a dough.
Add the cider vinegar and bicarbonate of soda. Continue whisking.
Fold in the sprigs of tarragon.
Once the sweet potatoes are cooked. Remove the skins. Add to the chestnut mixture.
Line a 30cm by 20cm baking tray with oil and parchment paper.
Fold in the mixture and with the back of spatula smooth over. Cover with aluminium foil. Bake in the oven for about 10 minutes. Remove and baste with olive oil.
Bake for a further 20 minutes. Remove from the oven and allow to stand for about 10 minutes.
Use 3-inch cutters to shape into cakes or alternatively using a knife cut into squares.