Beetroot Banana Fritters came about inspired by a compatriot vegan chef, Raw Chef Yin, who kindly gave me a copy of her book. We were both speakers at the international Bali Vegan Festival 2018. Here I use beetroots and sunflower seeds to add depth.  Dehydration ensures that the beetroot naturally caramelises with the banana in the dehydrator.  What I love about this dish is biting into the fritters and getting a moist beetroot/banana layer full of goodness.
What to do next
Tag me on @ethiveganquantum on Instagram to show me what you've made and let me know you're happy for me to share.
My recipes are featured in vegan speciality publications: Nourished, Vegan Life, Plant Based and Vegan, Food and Living.
Order my first self-published book, "Essence: The Beginner's Guide to Veganism" part of the three-part Circle of Food series. My second book "Presence: The Ascending Vegan" – which explores how to maintain a vegan practice is out in 2027 – I have compiled all the chapters including recipes.
Going strong since 2013.
Love.
Edward x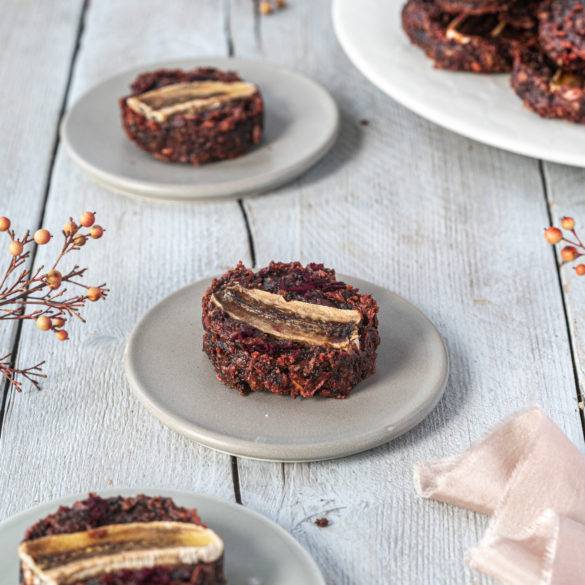 Ingredients
6 medium bananas
300g sunflower seeds
30g flaxseeds
150g beetroot, peeled
pinch of salt
Instructions
In a high-speed blender, combine the seeds into a fine consistency. Place in a large mixing bowl.
Shred the beetroot and 3 bananas in a food processor. Add to the mixing bowl with a pinch of salt.  Combine with a spatula.
Take a dehydration tray lined with a Teflon sheet. Using a cutter, spoon the batter insider and using the back of a spoon pat down. Cut the remaining batter into strips and place onto the batter. Repeat this action until all the batter and the bananas are used up.
Dehydrate in a dehydrator at 45 degrees for Celsius for approximately 8 hours each side until the coating turns to dark chocolate colour.
Serve at room temperature or chilled. Keep refrigerated.