Sensationalise your festivities. And, indulge
Golden pinkish floral Quince Crostada with citrus lemon in a millet teff pastry served with lashings of ice cream.
This dish will demolish your belief that vegan food can't be lip-smacking delicious.
Make this:
When the festive season is upon you and need a hearty nourishing dessert that will add an umph to your festivities
When you'd prefer to have a jam tart that has a bit of exoticness to it as you curl up on the sofa
When the kids are screaming and need a little light relief that'll them baking and enjoying their just desserts
Quince Crostada was inspired having made some fresh Quince Jam and fancy a take on the traditional jam tart.
My quince jam recipe can be found here.
Quince Crostada is a vegan dessert and gluten-free.
Love.
Edward x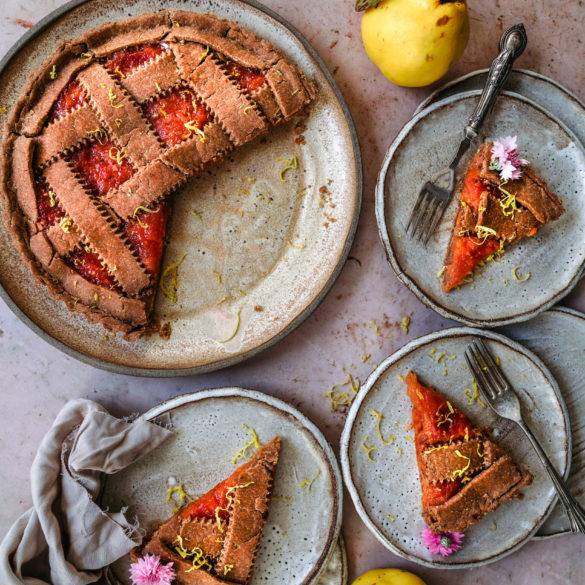 Ingredients
400g Quince Jam

½ lemon juice, and zest

For pastry

150g millet

75g teff flour

75g tapioca flour

60g oats

60g flaxseeds

25g raw unrefined cane sugar

1tsp xanthan gum

Pinch of salt

105ml filtered water

70ml olive oil
Instructions
In a high-speed food processor grind the millet, oats, flaxseeds, and sugar. Transfer to a large mixing bowl. Toss in the teff, xanthan gum and salt.
Pour in the oil and water. Knead into a dough and set aside for 10 minutes.
Pre-heat the oven to gas mark 180 degrees Celsius or if a convection oven to 160 degrees Celsius.
Line a 9-inch tart tin with oil. Place the dough between two pieces of parchment paper and roll into a circle. Shape the dough into the tart tin.  Fork the dough.
Mix the quince jam with lemon juice and zest, and spoon the quince jam mixture into the tins. If there is any extra dough, make into shapes and place over the pastry and layer the pastry cutting into strips to form a lattice. Brush the pastry with olive oil.
Cover with aluminium foil and bake in the oven for about 25 minutes until the crust turns into a light golden colour.
Remove from heat and set to one side.
Serve warm with some ice cream or vegan cream. Dust with icing sugar just before serving.