Nutty Salsify Fritters encrusted in sesame seeds infused with smoked paprika, woody nutmeg and fragrant thyme.
Venture into sensual oblivion. And, return with voluptuous sensations.
This dish will unseat your belief that vegan food can't be nourishing and wholesome.
Make this:
When you've spotted Salsify at your local supermarket and fancy a bit of lush vegan oysters
When you've got a lavish party and need a swanky hors d'oeuvre to tempt your guests
When you fancy a little luxury in the solitude and confinement of your own home. Bliss
Salsify Fritters was inspired when considering a veganised version of oysters and stumbling upon salsify, regarded as a poor man's oysters. Not sure why, as salsify has its own delicate nutty flavours. Salsify is otherwise known as Scorzonera.  I use
These fritters are a vegan seafood recipe and gluten-free.
What equipment to use
For this recipe, I suggest:
High speed blender
Oven
Stove
What to do next
Tag me on @ethiveganquantum on Instagram to show me what you've made and let me know you're happy for me to share.
My recipes are featured in vegan speciality publications: Nourished, Vegan Life, Plant Based and Vegan, Food and Living.
Order my first self-published book, "Essence: The Beginner's Guide to Veganism" part of the three-part Circle of Food series. My second book "Presence: The Ascending Vegan" – which explores how to maintain a vegan practice is out in 2027 – I have compiled all the chapters including recipes.
Going strong since 2013.
Love.
Edward x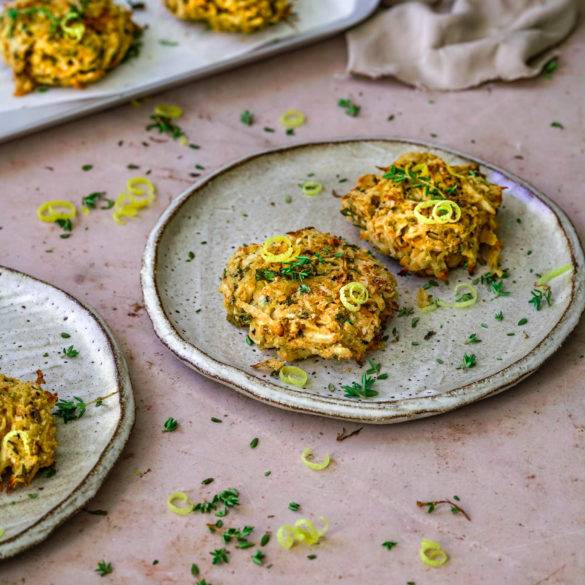 Ingredients
500g salsify

1 shallot, shallot

1 garlic clove, minced

60g flaxseeds

50g sesame seeds

1/4tsp smoked paprika

½ tsp nutmeg, ground

Few sprigs of thyme, leaves

Pinch of salt

Black pepper

Olive oil for frying
Instructions
Grind the flaxseeds and sesame seeds in a high spend blend and transfer to a large mixing bowl with the paprika, nutmeg and thyme leaves.
Peel and grate the salsify and transfer to the bowl. Tail the leaves but if dirty wash and chop finely and place into the bowl. Add in the shallot and garlic. Use a spatula to mix the ingredients together. Pour in the water and lemon juice. Season to taste.
Preheat oven to 180 degrees Celsius or if a convection oven to 160 degrees Celsius, if a convection oven.
Use the palm of your hands to roll the salsify into patties. Place on a baking tray with parchment paper.
Heat oil in a frying plan. Gently place the fritters and lightly brown on either side. Return to the baking tray. Repeat until all the fritters have been browned.
Bake in the oven for 20 minutes.
Serve warm.