Abundant in nutrients, this raw Avocado Mint and Cucumber Soup starter really opens the palate and terribly easy to put together. The shallot and garlic give this dish a little kick and the fact it is raw makes it refreshing.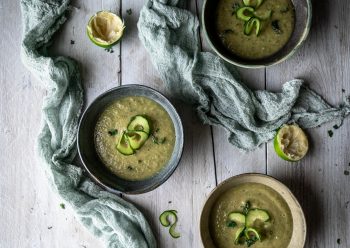 Ingredients
1 lime, squeezed
1 cucumber
1 avocado, skinned and deseeded
1 shallot, chopped
leaves from 3 sprigs of mint
2 cloves garlic
500ml water
mint for garnishing
season to taste
Instructions
Combine all ingredients in a blender and whizz to a fine consistency.
Season to taste.
Transfer the soup to a serving bowl. Garnish with mint leaves and serve.