I am not for rich desserts but this is an luscious dish of mine, for dinner party or secretly when I am at home and want to treat myself….
What to do next
Tag me on @ethiveganquantum on Instagram to show me what you've made and let me know you're happy for me to share.
My recipes are featured in vegan speciality publications: Nourished, Vegan Life, Plant Based and Vegan, Food and Living.
Order my first self-published book, "Essence: The Beginner's Guide to Veganism" part of the three-part Circle of Food series. My second book "Presence: The Ascending Vegan" – which explores how to maintain a vegan practice is out in 2027 – I have compiled all the chapters including recipes.
Going strong since 2013.
Love.
Edward x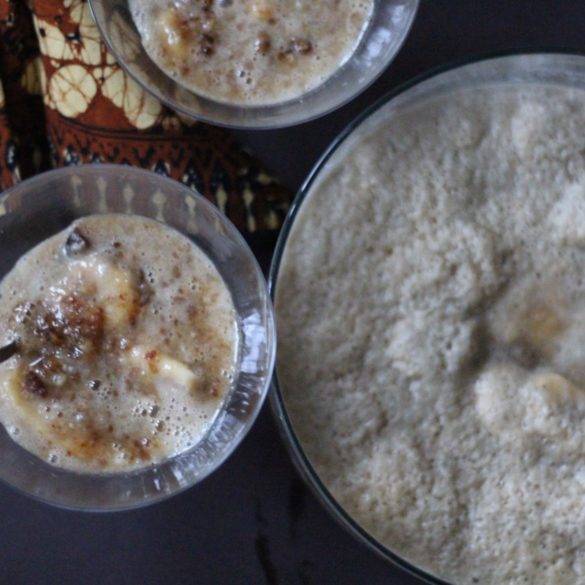 Ingredients
For the toffee sauce
150g dark muscovado sugar
250ml oat cream
2 tsp agar agar
145ml chick pea water
For banana
2 bananas
1 lemon
For base
150g brazil nuts
150g dates
Instructions
In a chopper combine the brazil nuts with dates until chopped to a fine consistency. Line the bottom of a serving dish. Leave to set in the fridge.
Slice the bananas and taking the juice of a lemon, place in a sealed plastic container. Turn the container over a couple of times to ensure that the banana and juice are well integrated.
Place a glass bowl over boiling water (or even over a bain marie). Add the muscovado sugar. Pour in the cream and melt. Keep stirring until well combined. Add the agar agar and continue stirring. Leave the toffee sauce to one side.
Meanwhile, whizz the chickpea water in a mixer until it becomes light and frothy.
Top tip – I do this to ensure that the banana is coated and it minimises oxidisation.
Remove the serving dish. Lay the sliced bananas over the brazil nuts and date mixture.
Switch off the mixer. Gently add the toffee sauced to the whisked chickpea water. Only lightly combine.