Most Thai red curries use fish sauce. This dish omits that and here, I make my own paste. This dish is incredibly quick to rustle up and I have been able to throw it together in about 20 minutes; great, after a long hard day at work when you are looking for something wholesome and easy to make.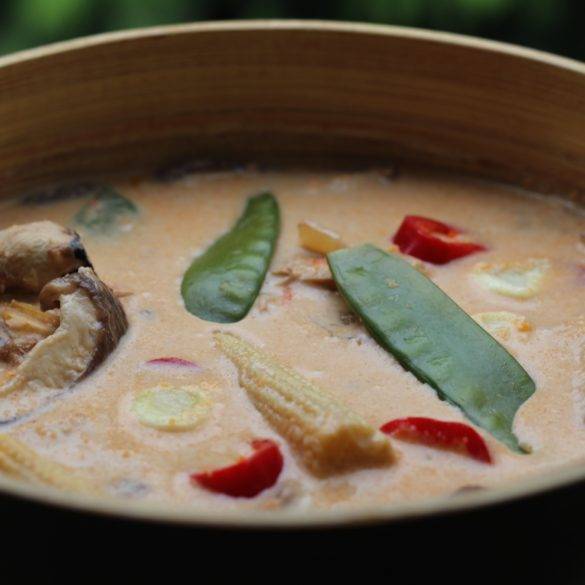 Ingredients
1tbs rock salt
cold water
200g tofu
For red paste
1 stick of lemon grass
2 red chillies
4tsb coconut oil
2 shallots
1 aubergine, sliced into small squares
400ml coconut milk
500ml water
1tsp galangal, sliced
2 kaffir lime leaves
2tbs tomato puree
2 cloves of garlic
100g baby corn
100g mange tout
75g shiitake mushrooms, sliced
2tsp lime juice, fresh
1/2tsp salt
Instructions
Mix the salt with cold water. Place into a tray. Slice the tofu into squares, with a centimetre in thickness. Place into the tray of salt and water and leave to one side.
To make the red paste, place the lemon grass and chillies into a grinder and grind until roughly chopped. Set to one side.
Saute the shallots in two tablespoons of oil in a large saucepan, until the shallots turn translucent. Add the aubergines and sauté until they soften.
Add the coconut milk, water, lemon grass, chillies, galangal, kaffir leaves, tomato puree, garlic and bring to the boil. Switch off the heat and place the lid on top.
Remove the tofu. Pat dry with a clean dish clothe. Place the tofu with the remaining oil and cook both sides until golden brown.
Top tip – I find the best way to fry tofu is to have it soaked in salted water first. This opens up the tofu so that it is able to absorb the oil as it fries.
When ready to serve, add the tofu, baby corn, mange tout, shiitake mushrooms, limejuice and salt and serve with either rice or with noodles.
Top tip – I prefer having my vegetables raw or uncooked, where possible, so this is why I leave these ingredients to last and just add before serving. It gives a much crunchier wholesome dish.
Notes
By Edward Daniel, Vegan Chef and Former Chair of The Vegan Society. Contributor to Vegan Life Magazine, Plant Based Magazine, Vegan Food and Living Magazine and OK! Magazine. Speaker and cooking demonstrator at Vegan Life Life Festival London, Mind Body and Spirit Festival London, Veganes Sommerfest Berlin, and Bali Vegan Festival. Author of "Essence: The Beginner's Guide to Veganism".