Raw Beetroot Apricot Fool came about because I wanted to create a dish that combined sweet and tart flavours together. This recipe is ideal for a dinner party and it should be eaten within a couple of days of making it – it begins to oxidise quite rapidly even if kept in the fridge. Ideally, it should be served immediately.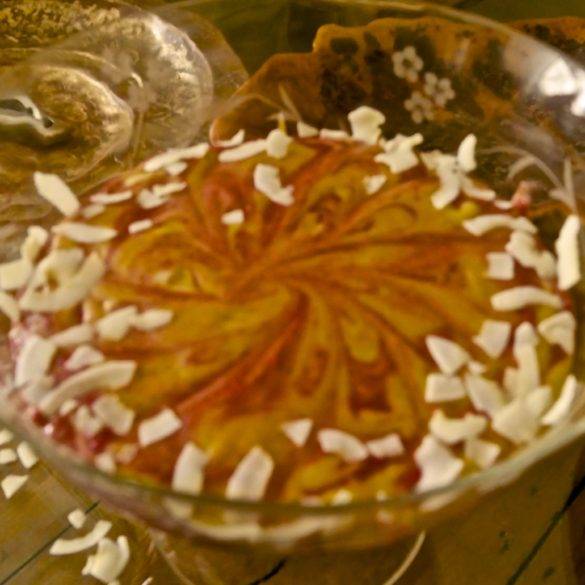 Ingredients
60g pumpkin seeds
60g sunflower seeds
1 medium beetroot, peeled
12tbs filtered water
pinch of salt
250g vegan cream
100g apricots, dried
1tsp vanilla extra
¼ lemon, juice
coconut shavings
Instructions
In a food processor, combine the pumpkin and sunflower seeds to a fine consistency.
Add the beetroot, water and salt to the seed mixture. Process until smooth. Set to one side.
In a blender combine the apricots, cream, vanilla extract and juice. Set to one side.
In a large serving dish layer the beetroot mixture with the apricot mixture.
Garnish with coconut shavings.
Serve immediately.
Notes
By Edward Daniel, Vegan Chef and Former Chair of The Vegan Society. Contributor to Vegan Life Magazine, Plant Based Magazine, Vegan Food and Living Magazine and OK! Magazine. Speaker and cooking demonstrator at Vegan Life Life Festival London, Mind Body and Spirit Festival London, Veganes Sommerfest Berlin, and Bali Vegan Festival. Author of "Essence: The Beginner's Guide to Veganism".