Buttery meaty walnuts roasted in a peppery-fruity olive lemony pickled caperberry sauce topped with caramelly sweet potatoes.
Get a wodge of meat into your pecker and salivate on the sensations that come. And, indulge.
This dish will overcome any myth that vegan food can't be fulfilling and nourishing.
Make this:
When it's a cold miserable Sunday and fancy a hearty meal that will knock your socks off
When you've got the in-laws over for dinner and you're wanting to give that understated impression of your cooking skills
When the lads are over for poker night and you're wanting some hearty nosh that'll soak up that beer
Sweet Potato Shepherd's Pie was inspired by nostalgic memories when younger of school cafeteria food.
Humble Shepherd's Pie has been an iconic peasant British and Irish dish. It was frequently made as inexpensive comfort food. This dish uses walnuts instead of animal products (originally lamb with a potato topping).
The caperberries are optional – they may be difficult to find.  You can normally find in your local Italian deli. I love the lemony olivy taste of caperberries, which take this Shepherd's Pie up a notch.  Well, that's my view. A touch of that little extra.
Soaking the walnuts overnight not only activates them (probably negated by the cooking, though) but importantly for this dish gets rid of some that bitterness of the tannins found in the skin.
Sweet Potato Shepherd's Pie is vegan and paleo.
What to do next
Tag me on @ethiveganquantum on Instagram to show me what you've made and let me know you're happy for me to share.
My recipes are featured in vegan speciality publications: Nourished, Vegan Life, Plant Based and Vegan, Food and Living.
Order my first self-published book, "Essence: The Beginner's Guide to Veganism" part of the three-part Circle of Food series. My second book "Presence: The Ascending Vegan" – which explores how to maintain a vegan practice is out in 2027 – I have compiled all the chapters including recipes.
Going strong since 2013.
Love.
Edward x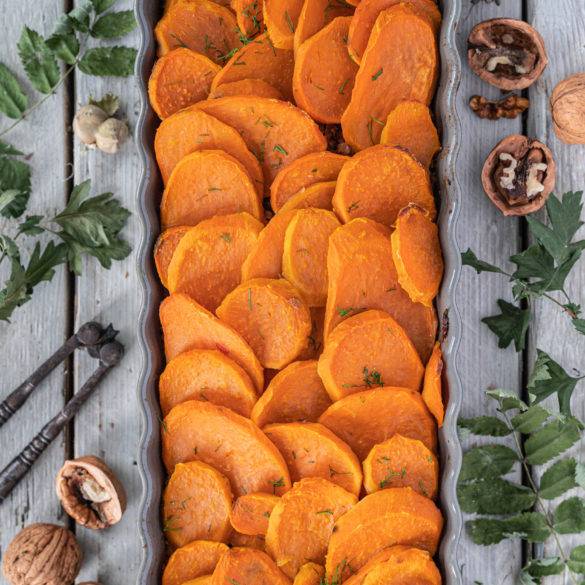 Ingredients
For the crust

700g sweet potatoes

2 tbs olive oil

Pinch of salt

For the filling

200g walnuts

2 shallots

2 tbs olive oil

50g olives, de-stoned

30g caperberries (optional)

2 cloves of garlic

1 stick of celery

1 carrot

½ lemon, juice

1 tbs amino acid

a few sprigs of dill

a few sprigs of thyme

pinch of sweet paprika

pinch of salt

300g chopped tomatoes
Instructions
Soak the walnuts in filtered water overnight. Drain and set to one side.
Preheat the oven to 180 degrees Celsius, or if a convection oven to 160 degrees Celsius.
Remove the skin of the sweet potatoes and slice. Place in boiling water for 10 minutes. Switch off heat.
Sauté the shallots in olive oil until the onion turns translucent. Set to one side in a large mixing bowl.
Place the walnuts into a chopper and roughly chop. Combine well with the chopped tomatoes into the mixing bowl.
Chop the olives and caperberries and add with the lemon juice, amino acid, dill, thyme, paprika and salt to the walnut meat filling. Mix well.
Layer the walnut meat filling at the bottom of a large baking tray. Smooth over with the back of a spatula.
Drain the sweet potatoes and using your hands coat 2 tbs olive oil and pinch of salt around. Layer the sweet potato topping over the walnut meat.
Cover with aluminium foil and back in the oven for about 40 minutes.
Serve warm. Garnish with a sprig of dill.