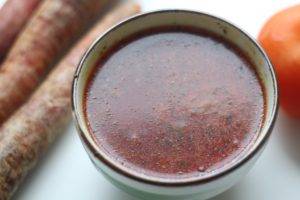 Recipe: Raw Coriander Purple Carrot and Beetroot Gazpacho
I made this easy to make starter conscious that I wanted to make it raw too. It actually taste remarkable light and a great accompaniment to any dinner party.
Cuisine:
#Raw #Vegan #Vegetarian
Ingredients
2 litres filtered water, boiled
2 purple carrots medium size
1 beetroot
1 onion
½ bunch of coriander leaves
1 fresh turmeric root (1 inch), finely grated
½ lime
50ml extra virgin olive oil
salt to taste
Instructions
Boil the filtered water and leave to one side.
Peel the skin off the carrots and beetroot. Place in a food processor with the onion and coriander. Whizz until course.
Place the carrot mixture into a blender. Add 250m of the filtered water and whizz finely.
Place the carrot mixture with grated turmeric and lime into a large serving bowl. Add the remaining filtered water. Mix well.
Drizzle in the olive oil.
Season to taste.
Serve at room temperature
Notes
Nutritional Analysis
Good points
• No cholesterol
• Low in sodium
• Very high in vitamin A
• High in vitamin C
Nutrition Information
Serving size:
309g
Calories:
72
Fat:
6g
Saturated fat:
0.8g
Trans fat:
0
Carbohydrates:
5.1g
Sugar:
2.3g
Sodium:
27mg
Fiber:
1.2g
Protein:
0.6g
Cholesterol:
0
_____________________________________________________
EthiVegan by Edward Daniel
Thank you for taking the time to view my recipes, interviews and events pages.  I hope I inspire you to make these recipes and also inspire you to become very best versions of yourself.
You can follow me on Instagram here (@ethivegan) where I have quick one minute update videos and for interviews and cooking demonstrations you can subscribe to my Youtube channel here.  You can watch live cooking demonstrations by subscribing to my Facebook profile here (@ethivegan).
For more information about me – click here
See you soon.
Love.
Edward x
Edward Daniel | Vegan Chef