Raw Tropical Fruit Salad with Papaya and Pomegranate is a wholesome, nourishing and perfect way to start the day following some meditation. The flaxseeds ensure you get a good start of Omega 3 to the day ahead. This salad also makes a great starter or dessert – it gets the appetite going, bringing balance to the day.
What to do next
Tag me on @ethiveganquantum on Instagram to show me what you've made and let me know you're happy for me to share.
My recipes are featured in vegan speciality publications: Nourished, Vegan Life, Plant Based and Vegan, Food and Living.
Order my first self-published book, "Essence: The Beginner's Guide to Veganism" part of the three-part Circle of Food series. My second book "Presence: The Ascending Vegan" – which explores how to maintain a vegan practice is out in 2027 – I have compiled all the chapters including recipes.
Going strong since 2013.
Love.
Edward x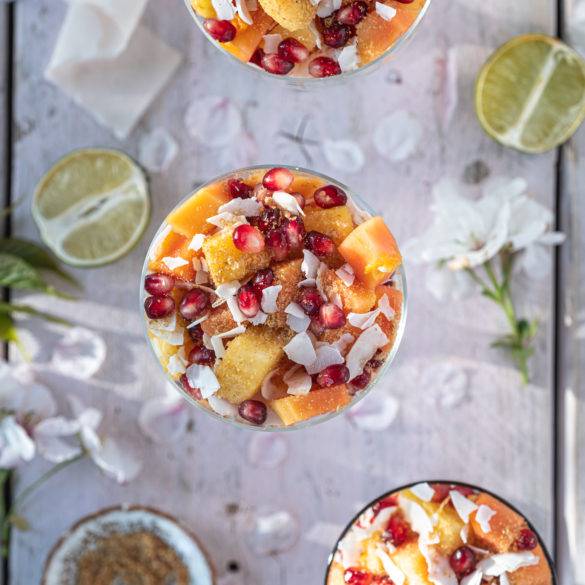 Ingredients
½ papaya
½ pomegranate
½ pineapple
1tbs flaxseeds, grounded
15g coconut flakes
½ lime, juice
Instructions
Peel the skin off the papaya. Cut in two and remove the black seeds. Cut into small chunks around 1cm each.
With a sharp knife top and tail the pineapple. Remove the thorny skin. The cut the sides leaving the core, which should be tossed aside. Cut the sweet parts of the pineapple into chunks.
Remove the pomegranate seeds by topping and tailing the pomegranate. Remove the seeds with hand.
Place the papaya, pineapple and pomegranate in a large serving dish.
Garnish with the ground flaxseeds and coconut flakes. Drizzle with lime juice.
Serve at room temperature.