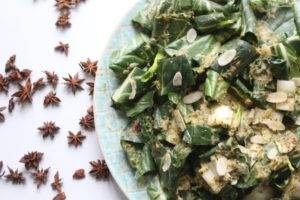 Recipe: Raw Pak Choi with Star Anise Orange Dressing
This Chinese cabbage has become a recent addition to my repertoire. Its subtle white and dark leafy green vegetable too. The dressing here is intended to enhance the natural flavour of the pak choi. My friend, Debby-Kaye had the pleasure of trying this dish out.
Cuisine:
Vegan, Vegetarian, Raw, Paleo, Paleovegan
Ingredients
2 large pok choi
3tbs extra virgin olive oil
1 clove of garlic, minced
juice of 1 orange
1tbs coriander seeds, grounded
2 star anise. grounded
few springs of oregano, chopped finely
salt and pepper to taste
20g blanched almonds
Instructions
Cut of the base of the pak choi, leaving the stem and leaves and cut into 1-centimetre shreds. Place on a large serving plate. Leave to one side.
Make the dressing by coming olive oil, garlic, orange juice, coriander, star anise and oregano in a large bowl. Mix well and season to taste.
When ready to serve drizzle the dressing over the pak choi.
Garnish with blanched almonds.
Serve at room temperature.
Notes
Nutritional Analysis
Good points
• No cholesterol
• High in calcium
• Very high in magnesium
• Very high in phosphorus
• Very high in vitamin A
• Very high in vitamin C
Nutrition Information
Serving size:
207g
Calories:
122
Fat:
8.9g
Saturated fat:
1.1g
Carbohydrates:
7.3g
Sugar:
1.8g
Sodium:
87mg
Fiber:
2.4g
Protein:
3.5g
Cholesterol:
0