Raw Kohlrabi and Pineapple Curry has so much flavour. It takes some getting used to having a curry at raw temperature. However, marinating it and serving at room temperature brings the curry tasty dimension to a whole new level. Try it.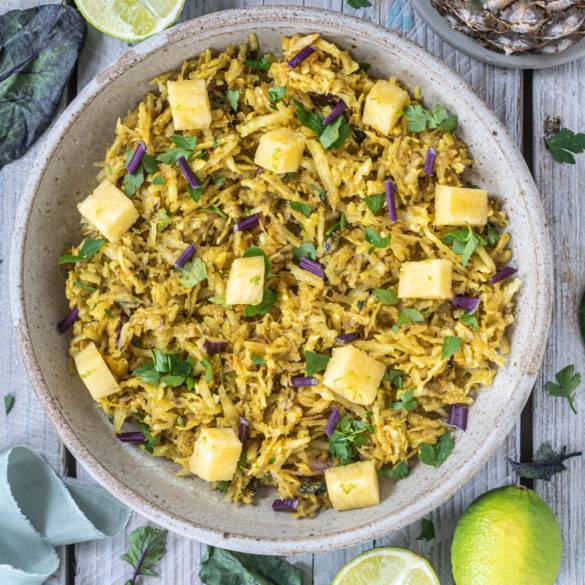 Ingredients
1 inch ginger, finely grated
1.5tbs cumin seeds, grounded
1.5tbs coriander seeds, grounded
1inch turmeric root, finely grated
4tbs extra virgin olive oil
pinch of salt
1 kohlrabi head, grated
½ medium pineapple, chopped
200ml filtered water
½ lime, juice
Instructions
Grind the spices in a grinder. Add in the olive oil.  Transfer to a small bowl. Cover and to marinade overnight.
Grate the kohlrabi head and place in a large mixing bowl with the spices and salt. Mix well.  Combine in the water. Set aside for a few hours.
When ready to serve, transfer the kohlrabi to a serving bowl. Cut and mix in the pineapple. Squeeze in the juice.
Serve at room temperature.