This really is an elegant colourful dish that is simple to put together and makes an enticing starter or even as a main accompaniment to a salad. I find that it does not even require seasoning.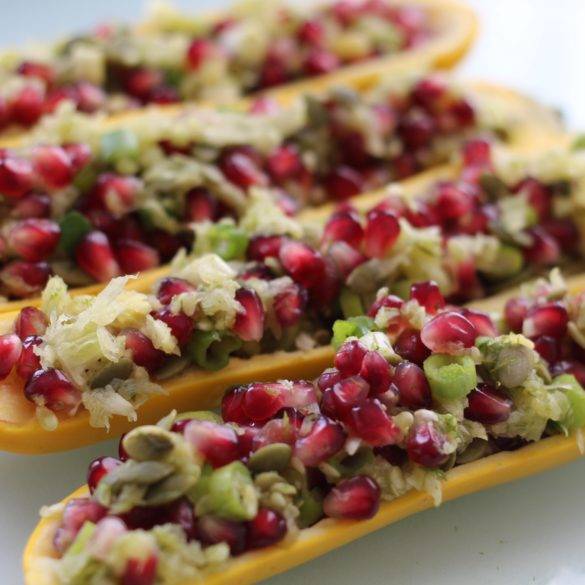 Ingredients
1 pomegranate, deseeded
3 spring onions, sliced
2tbs dill, chopped finely
2 zucchini
Instructions
Deseed the pomegranate and place in a large bowl.
Chop the dill in a grinder. Add to the pomegranate together with the sliced spring onions.
Cut the zucchini lengthways and scoop out the flesh from within, until you leave a cavity and what looks like an empty boat. Place the zucchini flesh into the pomegranate mixture. Mix well.
Spoon the pomegranate and zucchini flesh into the cavity of the zucchini.
Serve immediately.
Notes
By Edward Daniel, Vegan Chef and Former Chair of The Vegan Society. Contributor to Vegan Life Magazine, Plant Based Magazine, Vegan Food and Living Magazine and OK! Magazine. Speaker and cooking demonstrator at Vegan Life Life Festival London, Mind Body and Spirit Festival London, Veganes Sommerfest Berlin, and Bali Vegan Festival. Author of "Essence: The Beginner's Guide to Veganism".