Chestnut Seaweed Shiitake Broth is another classic dish. I love this dish as we come into the colder climate and fresh chestnuts are available. Though, already pre-cooked ones will equally do. I love this broth especially because it combines some of my favourite ingredients such as seaweed, sundried tomatoes and sunflower seeds. The seaweed used is what is available. I use egg wrack seaweed, which I have in my freezer and will grind whether I have need for it.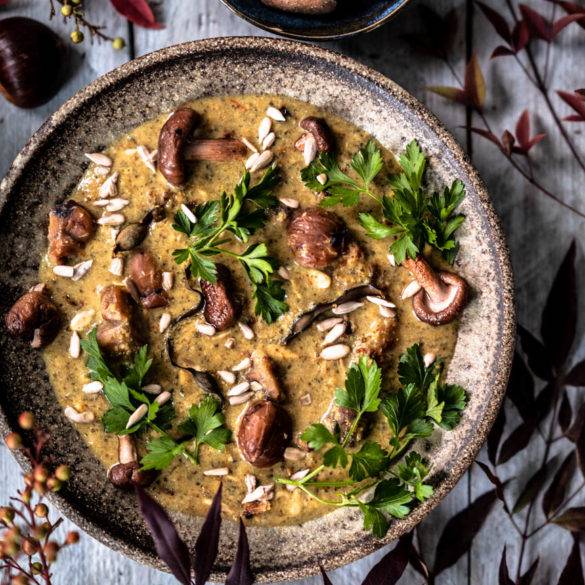 Ingredients
20g seaweed, ground
6 sundried tomatoes, chopped
50g sunflower seeds
500ml filtered water
1 inch turmeric root
1 inch ginger
2tbs coconut oil
200g chestnuts, cooked
50g shiitake mushrooms, sliced
400ml coconut milk
Garnishing
Few sprigs of parsley
Instructions
Soak the seaweed, sundried tomatoes and sunflower seeds in filtered water for at least an hour. Leave to one side.
Marinade the turmeric root and ginger in melted coconut oil for at least an hour. Leave to one side.
Just before serving, switch on the hob. Place the spiced coconut oil in a large saucepan or wok. Add the shiitake mushrooms and cook for about 5 minutes until the broth starts to thicken.
Add in the coconut milk and oats. Bring to the boil. Switch off the heat.
Add the seaweed, sundried tomatoes, sunflower seeds and chestnuts.
Season and garnish with parsley.
Serve immediately with some
Notes
By Edward Daniel, Vegan Chef and Former Chair of The Vegan Society. Contributor to Vegan Life Magazine, Plant Based Magazine, Vegan Food and Living Magazine and OK! Magazine. Speaker and cooking demonstrator at Vegan Life Life Festival London, Mind Body and Spirit Festival London, Veganes Sommerfest Berlin, and Bali Vegan Festival. Author of "Essence: The Beginner's Guide to Veganism".