Crunchy chewy Pearl Barley with earthy porcini and sweet chestnut mushrooms and lemony peppery thyme; Mushroom Pearl Barley Risotto.
Instead of paying lip service, get your smacker round something nutty.
This dish will smudge any misguided belief that vegan food is fulfilling and comforting.
Make this:
When the onslaught of seasons is oncoming, and the chilly nights are drawing in and you need a heart-warming dish that'll have you satiated
When you'd rather give rice a miss and you fancy an alternative risotto, and nutty pearl barley has your interest piqued
When you've had a long leisurely walk at the local park, nipping into the local grocers and fancy a simple dish to rustle up
Mushroom Pearl Barley Risotto was inspired when at my besties' sisters house, and making a non-affair dish that'd have us all snuggled around the hearth was only the way to go.
Pearl barley is barley with its outer bran removed, giving a shiny pearlescent sheen.  It is one of the longest ancient cultivated plants and was used in Ancient Rome to feed soldiers perhaps, due to its high fibre content, which aids in reducing hunger pangs. It's a good source of magnesium too, great for building bones.
What to do next
Tag me on @ethiveganquantum on Instagram to show me what you've made and let me know you're happy for me to share.
My recipes are featured in vegan speciality publications: Nourished, Vegan Life, Plant Based and Vegan, Food and Living.
Order my first self-published book, "Essence: The Beginner's Guide to Veganism" part of the three-part Circle of Food series. My second book "Presence: The Ascending Vegan" – which explores how to maintain a vegan practice is out in 2027 – I have compiled all the chapters including recipes.
Going strong since 2013.
Love.
Edward x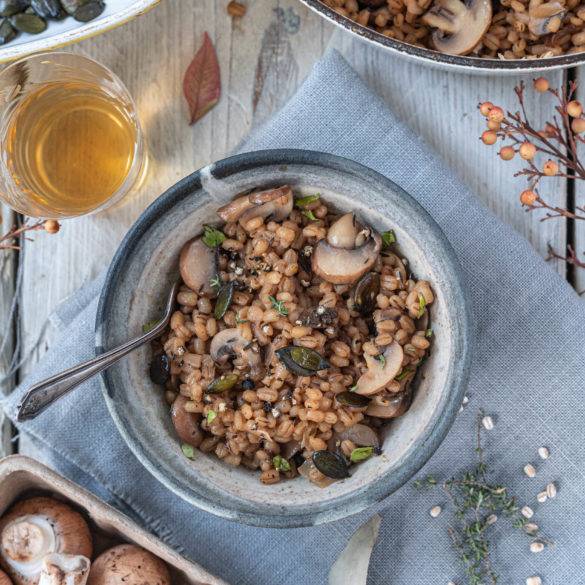 Ingredients
10g of dried porcini mushrooms

600 litres hot filtered water

1 shallot chopped

2 garlic cloves, chopped

2 tbsp olive oil

250g chestnut mushrooms

250g pearl barley

350ml dry white wine

a few sprigs of thyme, chopped

extra virgin olive oil for drizzling

salt and black pepper to taste
Instructions
Soak the porcini mushrooms in 600ml of hot water for about 30 minutes. Set the porcini mushrooms. The remaining water can be used as a stock.
Sauté the shallot with the garlic in olive oil until the shallots turn translucent. Stir in the pearl barley and coat in the oil.
Add the chestnut mushrooms and continue cooking for a few minutes.
Pour in the wine. Stir regularly and simmer over a gentle heat until the liquid is absorbed.
Ladle in the stock with the sprigs of thyme. Stir and simmer, until the liquid is absorbed. Continue adding the stock, until the pearl barley is tender. This process will take about 45 minutes.
When the risotto is almost done, add the porcini mushrooms and season with salt and pepper.
Serve warm.