I love this Roasted Radishes in a Pineapple Marinade because of the distinct taste of the radishes, pineapple and paprika which just meld together.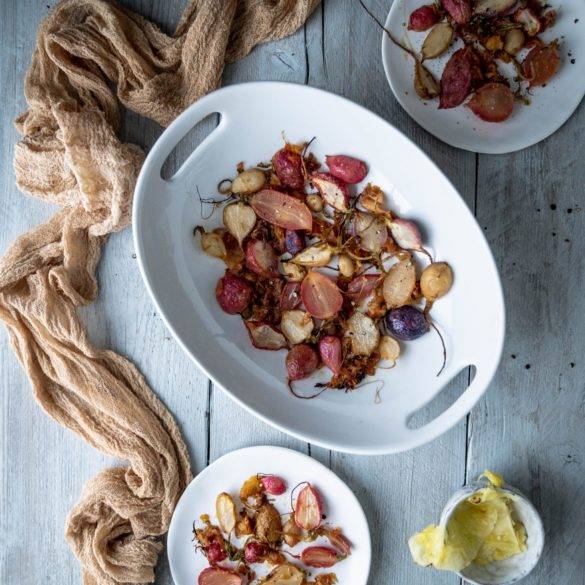 Ingredients
1 bunch of radishes
100g pineapple
3tbs olive oil
1tbs amino acid
½ paprika powder
Pinch of pepper
Instructions
Make the marinade my mixing together the oil, acid, paprika and pepper in a medium bowl.
Either finely slice or spiralise the pineapple. Please with the rest of the marinade.
Slice and marinade the radishes for about an hour.
Pre-heat the oven to gas mark 180 degrees Celsius or if you have a fan oven 160 degrees Celsius.
Roast the radishes in the oven for about 30 minutes.
Notes
By Edward Daniel, Vegan Chef and Former Chair of The Vegan Society. Contributor to Vegan Life Magazine, Plant Based Magazine, Vegan Food and Living Magazine and OK! Magazine. Speaker and cooking demonstrator at Vegan Life Life Festival London, Mind Body and Spirit Festival London, Veganes Sommerfest Berlin, and Bali Vegan Festival. Author of "Essence: The Beginner's Guide to Veganism".