Refried black beans is not exactly an accurate description of this dish. It is actually reheated as you eat the batches. When reheating, just add olive oil.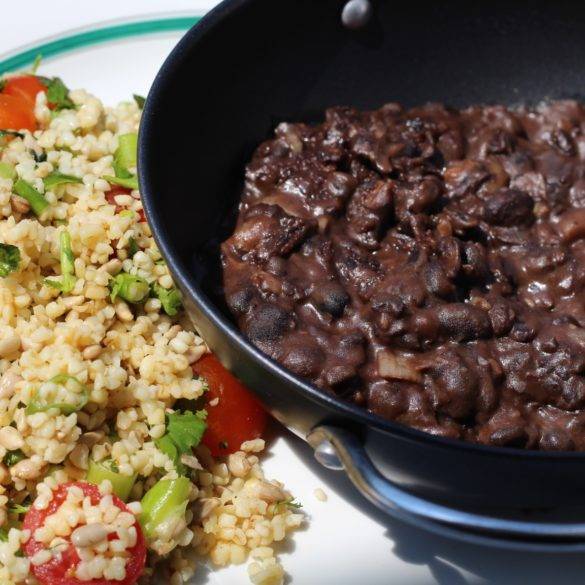 Ingredients
300g black beans
700ml water
2tbs olive oil
1 onion
4 cloves garlic, minced
1tsp smoked paprika
½tsp chilli powder
1/2 tsp sea salt
1tsp black pepper
200ml red wine
Instructions
Soak the beans in water overnight and discard the water the following day.
In a pressure cooker, add the black beans with water. Close the pressure cooker and once it starts to steam, cook for 25 minutes. Switch off the heat. Release the steam and give the contents a stir.
In a fry pan sauté the onion in oil under a medium heat until the onions turn translucent. Set to one side.
Once the beans are cooked in the pressure cooker, the beans are well softened.
Add the wine, garlic, chilli powder, smoked paprika, salt and powder.
Cook under a medium heat and without the lid for a further 5 minutes.
Season further for taste and serve.