Saffron sweet paprika bomba rice topped with green beans, peas, butter beans and artichokes grilled to give that burnt Vegan Paella look.
Tempt yourself with a spoonful of paella that will have you burning for more… And, lick.
This dish will throw out any doubts that vegan food can't be totally satisfying.
Make this:
When you've got the Cordobe's out with the lads and fancy a Spanish night with paella and tequilas at the ready
When it's the kiddie's birthday and you need a colourful dish that'll get them excited without realising there's some veggies in
When you fancy an intimate dinner with your beau/belle that takes you back to fond memories of Spain
Vegan Paella was inspired by memories of sitting at a busy restaurant in Valencia, Spain on a dry warm summer's evening with an ex-beau watching a cabaret performance.
Just like pizza, the vegetables are secondary to the main ingredient, here the succulent taste of the rice for this vegan paella. Arguably, Bomba rice is traditionally the rice used for this dish because it is a good absorbent. Though, use Arborio rice, if you have to substitute. Saffron helps give this lush dish its vibrant colour and gives it a "wow" factor.
In this vegan version, I use butter beans which are a staple for this paella dish but also green beans and peas.  A legume dish to be honest.  The cut artichokes, you can buy in a glass jar filled with oil, preserving the artichokes.  The artichokes are optional but I would encourage you to add this to the dish to give this dish some contrast.  Although, it is reasonably fine without it.
Vegan Paella is paleo.
What to do next
Tag me on @ethiveganquantum on Instagram to show me what you've made and let me know you're happy for me to share.
My recipes are featured in vegan speciality publications: Nourished, Vegan Life, Plant Based and Vegan, Food and Living.
Order my first self-published book, "Essence: The Beginner's Guide to Veganism" part of the three-part Circle of Food series. My second book "Presence: The Ascending Vegan" – which explores how to maintain a vegan practice is out in 2027 – I have compiled all the chapters including recipes.
Going strong since 2013.
Love.
Edward x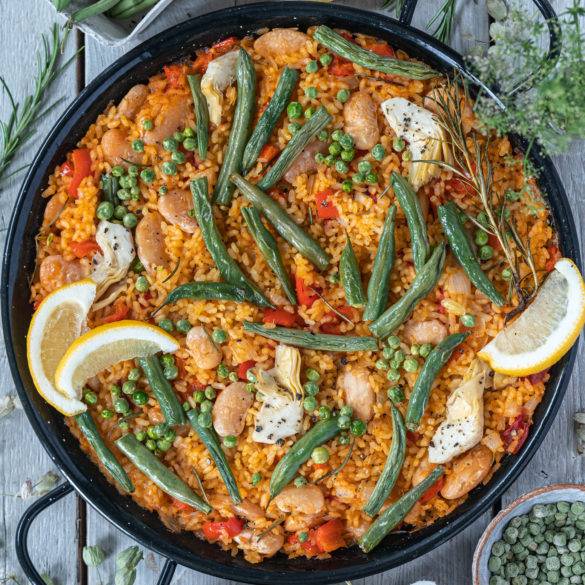 Ingredients
100g butter beans
1litre filtered water (makes stock)
1 onion, medium chopped
3 garlic, cloves, minced
1 Spanish pepper, diced
100g plum tomatoes
4tbs olive oil
250g Bomba or Calasparra rice
½ tsp smoked paprika
pinch, saffron threads
1/4 tsp salt
Black pepper to taste
100g mixed vegetables – peas and green beans
50g cut artichokes (optional)
1 lemon, juice
Instructions
Soak the butter beans in filtered water overnight. The following day drain and place 1 litre of filtered water with the butter beans in a pressure cooker and pressure for 25 minutes. Retain the water as stock.
Make the sofrito, by tossing together onion garlic, pepper, tomatoes and half the olive oil in a large non-stick paella pan. If you do not have a paella pan, use large non-stick frying pan, as a substitute.
Cook all the ingredients over a medium heat, until they soften. This should take no more than four or five minutes.
Switch off the heat. Add the rice, paprika and remaining oil, ensuring that the rice is well coated with the sofrito mixture and oil.
Return the pan to the heat. Add the stock, saffron and salt and bring the mixture to the boil. Reduce the heat and simmer gently for about 10 minutes.
Stir in the butter beans, peas and green beans and cook for a further five minutes. If you are feeling daring, you may wish to add a couple more tablespoons of olive oil. Resist the urge to stir any further. The rice will expand, and the liquid begins to reduce in size.
As an option, to give the paella that burnt look on top, place under the grill or in a pre-heated oven at 180 degrees Celsius or if convection oven at 160 degrees Celsius for 5 minutes.
Cut the lemon into segments – drizzle a little over the paella and the remaining serve with the dish. Sprinkle the optional artichokes too on top too.
Let the paella sit for a couple of minutes before serving it. Do not worry about the rice sticking to the bottom of the pan, part of the Spanish tradition is for guests to enjoy the rice crust at the bottom! Enjoy.