Fluffy pillowy Bombay Potatoes parboiled and sauteed with bitter mustard seeds, lemony coriander seeds and musky turmeric.
Cushion your mouth. And, gulp.
This dish will obliterate any belief that vegan food can't be hearty.
Make this:
When you've got the lads over for poker night and a quick hearty dish that'll have you back on the cards in no time
When you've a curry night and a side dish that's both delish and nourishing is much needed
When you're short on time and a dish that will satisfy the kiddies but not too spicy is just what they desire
Bombay Potatoes was inspired by my parent's cooking, returning from school famished and a wholesome dish that would quench our hungry appetites.
Bombay Potatoes is a hearty dry Indian side dish made with parboiled cubed potatoes and sauteed with spices.
Bombay potatoes is vegan.
What to do next
Tag me on @ethiveganquantum on Instagram to show me what you've made and let me know you're happy for me to share.
My recipes are featured in vegan speciality publications: Nourished, Vegan Life, Plant Based and Vegan, Food and Living.
Order my first self-published book, "Essence: The Beginner's Guide to Veganism" part of the three-part Circle of Food series. My second book "Presence: The Ascending Vegan" – which explores how to maintain a vegan practice is out in 2027 – I have compiled all the chapters including recipes.
Going strong since 2013.
Love.
Edward x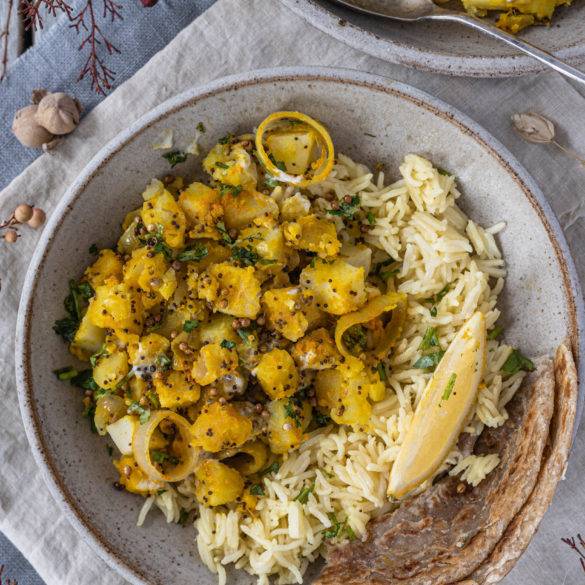 Ingredients
500g potatoes peeled, and diced

2tbs olive oil

1 onion

2 cloves garlic

1tbs mustard seeds

1tbs coriander seeds

1tsp turmeric powder

Pinch of salt
Instructions
Place potatoes in boiling water and bring to the boil. Cook for about 20 minutes until the potatoes soften and you are able to slide a knife through. Place in a colander and allow the water to drain off. Set to one side.
In a saucepan sauté the onion in oil under a medium heat until the onion turn translucent.
Add the garlic, mustard seeds, coriander seeds and fry for about a minute. Then add the turmeric, salt, pepper and water and continue cooking under a medium heat for a couple of minutes. The onions should form a bright yellow Marsala mixture.
Add the drained potatoes to the Marsala and cook for about 3 to 4 minutes until well combined.
Season further for taste and serve.