Seasonal beet green leaves with citrus lemon, caramelised garlic, nutty pumpkin seeds and olive oil; Beet Green Pesto.
Bite into something moist and soft. And, gulp.
This dish will overthrow your belief that vegan food can't be super nutritious.
Make this:
When you've just been to the local farmers market laden with beets and their greens. You're scratching your head as to toss out the leaves. Don't. Make a gorgeous pesto instead
When you're seeking an alternative to basil or wild garlic pesto. A healthy nutritional condiment to your pasta dish
When you've got a jam-packed schedule. You need a quick and easy condiment to toss onto your jacket-potato. Feel satiated and get onto the next chore on that list
Beet Green Pesto was inspired when laden with beets and their leaves at a local farmer's market. I didn't want to toss away the stems or leaves which are lush in colour and have a mild sweet taste to them.
This Pesto is a vegan condiment and paleo too.
What equipment to use
For this dish, I suggest:
Chopper
Oven
What to do next
Tag me on @ethiveganquantum on Instagram to show me what you've made and let me know you're happy for me to share.
My recipes are featured in vegan speciality publications: Nourished, Vegan Life, Plant Based and Vegan, Food and Living.
Order my first self-published book, "Essence: The Beginner's Guide to Veganism" part of the three-part Circle of Food series. My second book "Presence: The Ascending Vegan" – which explores how to maintain a vegan practice is out in 2027 – I have compiled all the chapters including recipes.
Going strong since 2013.
Love.
Edward x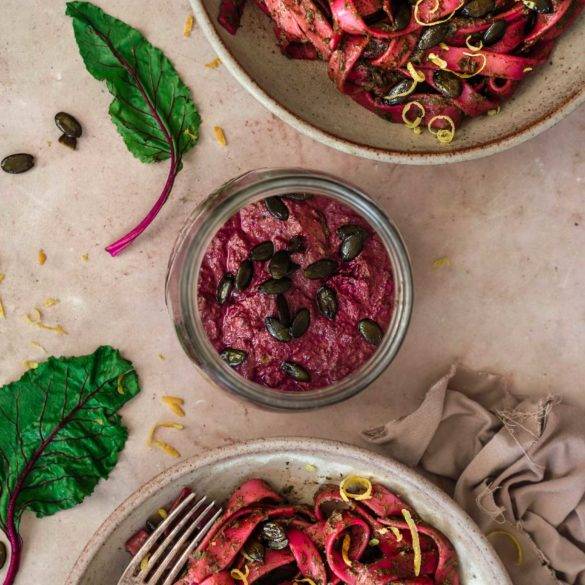 Ingredients
75g pumpkin seeds

3 cloves of garlic

2tbs olive oil

300g beet greens (beetroot leaves and stems)

100g olive oil

10g nutritional yeast

½ lemon, juice

Salt and pepper
Instructions
Soak the pumpkin seeds in filtered water about 30 minutes. Drain, place in baking dish with the garlic and coat with olive oil
Pre-heat the oven to gas mark 180 degrees Celsius or if you have a fan oven 160 degrees Celsius.
Bake the pumpkin seeds for about 10 minutes, and remove. Leave the garlic to roast for a further 10 minutes. Set to one side.
In a chopper, place the beet greens with the peeled garlic and half the pumpkin seeds, oil, nutritional yeast and lemon juice. Whizz. Remove and transfer to a mixing bowl with the remaining pumpkin seeds. Season to taste.
Serve with pasta or jacket potatoes.
Store in a sterilised sealable jar. Toss in some crushed peppercorns. Chill and use within a week.