Tantalise your quiver, give a little shiver. And, inhale.
Soft creamy Roast Plantain chunks baked in a marinade of fruity allspice, earthy nutmeg and fiery cayenne pepper.
This dish will eliminate any belief that vegan food can't be simple to rustle up with a few choice ingredients.
Make this:
When you're at your local Asian greengrocers and want a vegetable that you don't normally cook with
When you're limited for time and a dish that'll have you punching the air as you bite into it
When you've got Dave over from your team at work for a spot of dinner and want to impress him with your culinary skills
Roast Plantain was inspired through grabbing lunchtime dinners at the local Caribbean take out – and salivating over the roast plantain with rice.
Plantain is known as the cooking banana. It's the unsweet variety of banana.
Roast Plantain is vegan and paleo.
Love.
Edward x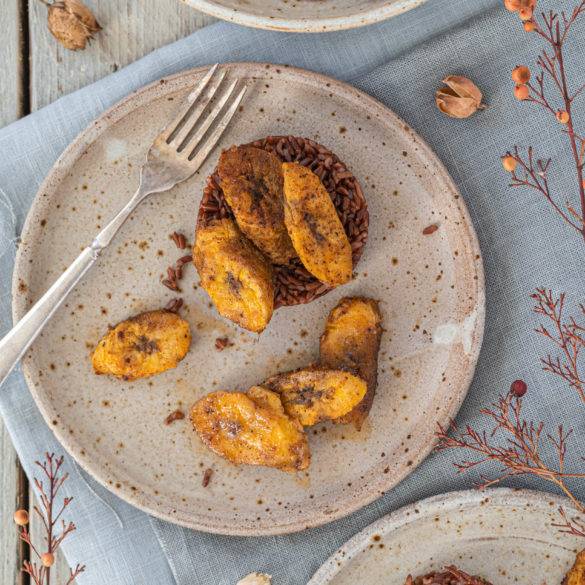 Ingredients
4 plantains, sliced

3tbs olive oil

4 Allspice

1 nutmeg

½ tsp cayenne pepper

½ tsp salt
Instructions
Preheat oven to gas mark 180 degrees Celsius, or if convection oven at 160 degrees Celsius.
Grind the allspice, nutmeg and salt in a grinder. Transfer to a mixing bowl. Swirl in the cayenne pepper.
Slice and add in the plantain.
Transfer to a baking dish. Cover with aluminium and bake in the oven for 30 minutes.
Serve warm with rice.