Anise-like fennel roasted with a garlic and ginger lime sauce garnished with liquorice-like dill; Roasted Fennel with Dill and Ginger.
Deep dive into veggie flesh that'll get you all satiated. And, suspend disbelief.
This dish will bust your belief that vegan food can't be super easy to make.
Make this:
When you've got to going out later for the night on the town and need a quick dish that'll get you stoked as it leads you into the night
When you've got a dinner party organised and have a million and one things to do beforehand and need a dish that you can rustle up that's the bees knees
When you've got the in-laws coming and need a restaurant-type dish that'll have them chomping at the bits
Roasted Fennel with Dill and Ginger was inspired when visiting my best friend's sister in the heart of Wales over the Christmas festive season and using choice ingredients easily found in the pantry.
Fennel is a great winter vegetable and is in season from late Summer through winter.  It's crunchy, energising and mildly sweet. It's crispy in texture and has an anise-like scent and flavour.
This elegant fine colourful cuisine is a perfect dinner party accompaniment. Simple, tasty and mouth-watering – all you really need.
Roasted Fennel with Dill and Ginger is vegan and paleo.
What to do next
Tag me on @ethiveganquantum on Instagram to show me what you've made and let me know you're happy for me to share.
My recipes are featured in vegan speciality publications: Nourished, Vegan Life, Plant Based and Vegan, Food and Living.
Order my first self-published book, "Essence: The Beginner's Guide to Veganism" part of the three-part Circle of Food series. My second book "Presence: The Ascending Vegan" – which explores how to maintain a vegan practice is out in 2027 – I have compiled all the chapters including recipes.
Going strong since 2013.
Love.
Edward x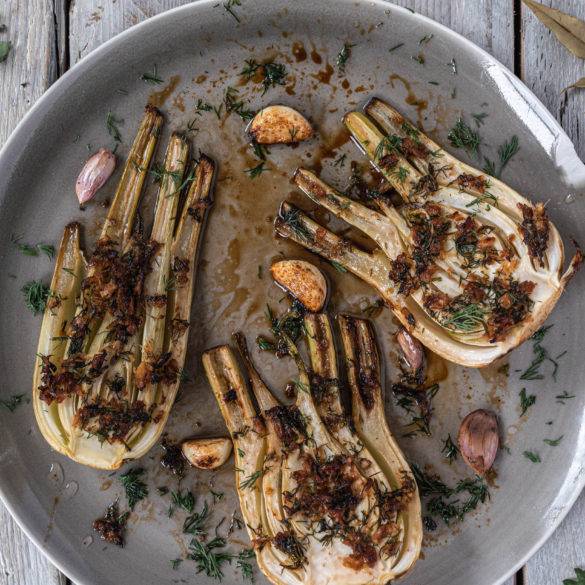 Ingredients
3 fennels, sliced centrally in two

4tbs coconut oil

1 lime-juice

2tbs soya sauce

2tbs rice mirin

20ml filtered water

2 cloves of garlic, chopped

1-inch ginger, chopped

few sprigs of dill, chopped
Instructions
Preheat the oven to 180 degrees Celsius.
Line an ovenproof dish with baking parchment and add the fennel.
In a jug, mix together the coconut oil, lime juice, soya sauce and water. Add the garlic, ginger and dill. Combine
Drizzle with dressing over the fennel. Cover with dish with aluminium foil. Cook for about 20 minutes in the oven.
Serve warm.