Tofu scramble is a simple, creative and thoroughly enjoyable recipe was originally part of my "Beginner's Survival Guide" cooking series. Tofu scramble also makes a great breakfast for my non-vegan friends who are usually in awe with this fine substitute for eggs. Good food does not need to compromise.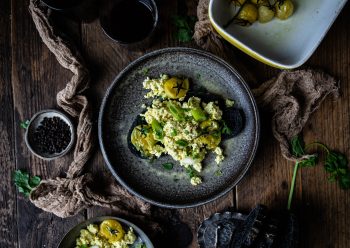 Ingredients
A handful of tomatoes
2tbs olive oil
500g organic tofu
2tbs coconut oil
½ turmeric root (or 1tsp turmeric powder)
2 spring onions, chopped
Salt
Pepper to taste
A few sprigs of coriander
Instructions
Pre-heat the oven to gas mark 180 degrees Celsius or if you have a fan oven 160 degrees Celsius.
Place the tomatoes in a roasting tray and drizzle with olive oil. Bake for about 20 minutes. Set to one side.
Mash the tofu with a fork.
Heat the coconut oil in a frying pan. Add the tofu and mix with salt and turmeric. Sauté for a couple of minutes.
Toss in spring onions. Continuing cooking for three or four minutes.
Toss in the tomatoes.
Season black pepper and serve warm with some toasted bread.
Notes
By Edward Daniel, Vegan Chef and Former Chair of The Vegan Society. Contributor to Vegan Life Magazine, Plant Based Magazine, Vegan Food and Living Magazine and OK! Magazine. Speaker and cooking demonstrator at Vegan Life Life Festival London, Mind Body and Spirit Festival London, Veganes Sommerfest Berlin, and Bali Vegan Festival. Author of "Essence: The Beginner's Guide to Veganism".