Earthy ginger-like turmeric Tofu Scramble with bulbous piercing spring onions and roasted succulent tart tomatoes.
Devour something moist and fluffy that will get your balls going. And, lounge.
This dish smashes any belief that vegan food can't be fulfilling and nourishing.
Make this:
When you've got a big activity day ahead of you and want something nourishing that will see you through the day ahead
When you've got friends over for the weekend and want a quick and dirty dish that will get your carb and protein up
When you're looking for a fry up to go with your full English breakfast and a scramble to go with it
Tofu Scramble was inspired when first turning vegan, and discovering that tofu made an amazing nourishing fried substitute for eggs. A scramble is fluffy beaten tofu gently heated with salt and oil.
Tofu Scramble is vegan.
What equipment to use
For this recipe, I suggest:
Stove
What to do next
Tag me on @ethiveganquantum on Instagram to show me what you've made and let me know you're happy for me to share.
My recipes are featured in vegan speciality publications: Nourished, Vegan Life, Plant Based and Vegan, Food and Living.
Order my first self-published book, "Essence: The Beginner's Guide to Veganism" part of the three-part Circle of Food series. My second book "Presence: The Ascending Vegan" – which explores how to maintain a vegan practice is out in 2027 – I have compiled all the chapters including recipes.
Going strong since 2013.
Love.
Edward x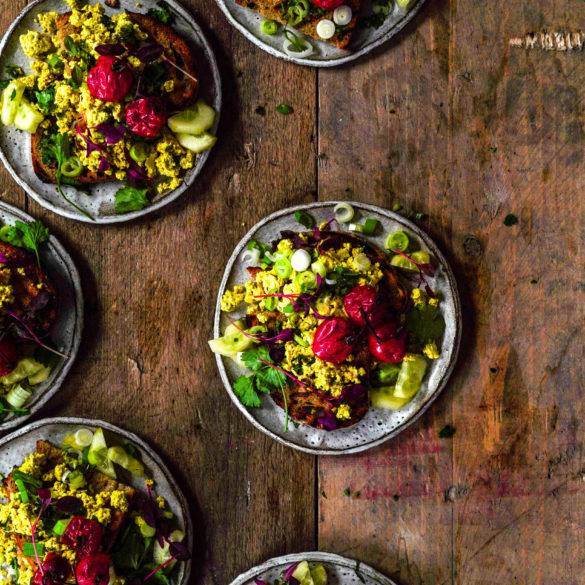 Ingredients
150g tomatoes

4tbs olive oil

400g organic tofu

½ turmeric root (or 1tsp turmeric powder)

2 spring onions, chopped

Season to taste
Instructions
Pre-heat the oven to gas mark 180 degrees Celsius or if you have a fan oven 160 degrees Celsius.
Place the tomatoes in a roasting tray and drizzle with 2tbs olive oil. Bake for about 20 minutes. Set to one side.
Mash the tofu with a fork.
Heat the remaining oil in a frying pan. Add the tofu and mix in the turmeric. Sauté for a couple of minutes.
Toss in spring onions. Continuing cooking for three or four minutes.
Toss in the tomatoes.
Season to taste and serve with some toasted bread or pancakes.