Roasted Parsnip and Celeriac Soup with earthy caraway, marjoram, thyme and coriander and topped with toasted sunflower and pumpkin seeds.
Get something warm and hearty inside you. And, shudder.
This dish will obliterate any belief that vegan food can't be super nourishing
Make this:
When it's cold and miserable outside and a wholesome dish that'll warm your innards is much needed
When you're feeling fuzzy and need some coherency to your tastebuds which will come to the fore
When you're lying your sofa and need to curl up and watch the World go by
Roasted Parsnip and Celeriac Soup was inspired when watching the rain beating against my window and fancying a warm soothing dish to appease my frenzied mind.
This Soup is vegan and paleo.
What equipment to use
For this recipe, I suggest:
Oven
Stove
What to do next
Tag me on @ethiveganquantum on Instagram to show me what you've made and let me know you're happy for me to share.
My recipes are featured in vegan speciality publications: Nourished, Vegan Life, Plant Based and Vegan, Food and Living.
Order my first self-published book, "Essence: The Beginner's Guide to Veganism" part of the three-part Circle of Food series. My second book "Presence: The Ascending Vegan" – which explores how to maintain a vegan practice is out in 2027 – I have compiled all the chapters including recipes.
Going strong since 2013.
Love.
Edward x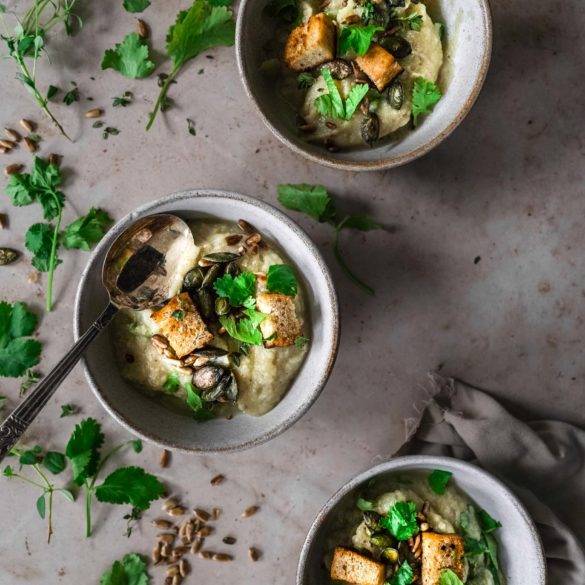 Ingredients
400g celeriac

200g parsnip

1 clove of garlic

2tsb olive oil

1 onion

2tbs olive oil

750ml filtered water

½ tsp marjoram

½ tsp caraway seeds

750ml filtered water

Few sprigs of thyme

Few sprigs of coriander

10g sunflower seeds

10g pumpkin seeds

Season to taste
Instructions
Preheat oven to gas mark 180 degrees Celsius or 160 degrees Celsius if convection oven.
Roast the celeriac, parsnip and garlic coated with 2tbs olive oil, in an ovenproof dish for 45 minutes. Remove from heat and leave to cool.
Remove the skin of the celeriac, parsnip and garlic.
In a large saucepan, sauté the onion in the retained juices for a couple of minutes until the onion turns translucent. Toss in the diced celeriac, parsnip and garlic.
Pour in the water, and add in the marjoram and caraway seeds. Bring to the boil.  Remove from heat and set to one side for a few minutes.
Place the broth into a blender in batches and whizz till a fine consistency.
Toast the sunflower and pumpkin seeds in a frying pan.
Season with salt and pepper.
Toss in chopped coriander and thyme and garnish with sunflower and pumpkin seeds. Serve warm.