Succulent caramelised peaches on a pillowy teff millet pastry bed topped with citrus zest and pistachios; Peach Tarte Tatin.
Wrap your tonsils round something warm and gooey.
This dish will burst your belief that vegan food can't be supper scrumptious.
Make this:
When you've got a lavish dinner party and need a dessert that'll simply wow your guests
When you've spotted some peaches at the local supermarket and fancy a mouth-watering dessert that'll leave your day on a high
When you've got a first date with a new beau/belle and it's time to bring the cavalry and impress them with your culinary skills
Peach Tarte Tatin was inspired when languishing through a TV cooking channel and though, the pastry with gluten, I was determined to create my own vegan and gluten-free version.
Peaches are a good source of flavonoid poly phenolic antioxidants.
Peach Tarte Tatin is a vegan dessert and gluten-free, and French cuisine.
What equipment to use 
For this recipe, I suggest:
High speed blender
Oven
What to do next
Tag me on @ethiveganquantum on Instagram to show me what you've made and let me know you're happy for me to share.
My recipes are featured in vegan speciality publications: Nourished, Vegan Life, Plant Based and Vegan, Food and Living.
Order my first self-published book, "Essence: The Beginner's Guide to Veganism" part of the three-part Circle of Food series. My second book "Presence: The Ascending Vegan" – which explores how to maintain a vegan practice is out in 2027 – I have compiled all the chapters including recipes.
Going strong since 2013.
Love.
Edward x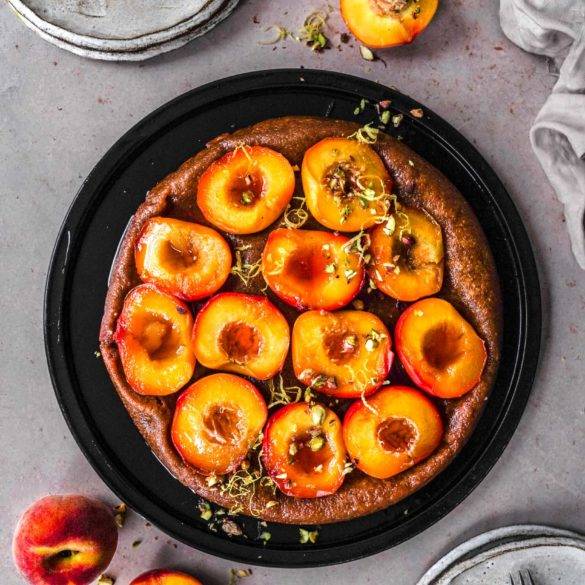 Ingredients
6 ripe peaches, deseeded and halved

For syrup

125g unrefined cane sugar

100ml filtered water

For pastry

100g millet

50g teff flour

50g tapioca flour

50g oats

25g flaxseeds

75g unrefined cane sugar

1tsp xanthan gum

Pinch of salt

75ml filtered water

25ml olive oil

Garnishing

Lemon zest

Pistachios, chopped
Instructions
Preheat oven to 180 degrees Celsius, or if a convection oven to 160 degrees Celsius.
In a high-speed blender, ground the millet, oats, flaxseeds and sugar and transfer to a large mixing bowl.
To the bowl mix in the teff and tapioca flours, salt and xanthan gum. Combine well with a spatula.
Pour in the water and olive oil. Kneading until the dough has a soft consistency and set to one side.
Take either a tarte tatin or pyrex dish. Caramelise sugar until it turns toffee like. Pour in the water.  The sugar will crystallise but do not worry. Boil until it turns into a syrup.
Add in the peaches with their skin facing the dish to ensure coverage and then turn them over. Switch off the heat.
Roll the teff millet dough between two pieces of parchment paper and into a circle sufficient to cover the dish. Place the dough over the peaches.
Bake in the oven for about 20 minutes until golden brown.
Allow to cool for 5 minutes before turning out by placing an inverted plate over the dish and in one quick movement, turn the dish over.
Serve warm or cold. Garnish with lemon zest and pistachios.