Runner Beans with Cob Nuts makes an elegant side accompaniment to a meal. I love the subtle taste of the cob nuts which juxtapose with the stronger ginger and malt barley. Cob nuts are a type of hazelnut so use any general hazelnut if unavailable.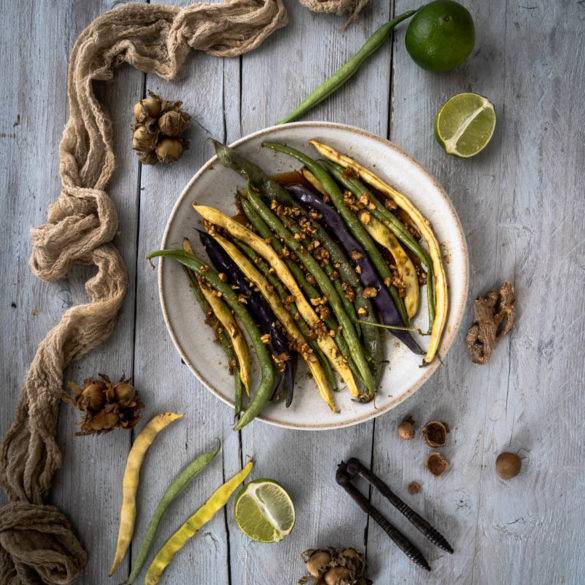 Ingredients
100g runner beans
50ml malt barley
100ml filtered water
1/2-inch ginger
50g cob nuts de-shelled (about 100g cob nuts shelled)
zest of lime
Instructions
Pre-heat the oven to gas mark 180 degrees Celsius or if you have a fan oven 160 degrees Celsius.
Blitz together the malt barley, filtered water and ginger. Set to one side.
Place the cob nuts in a chopper. Chop roughly.
Place the runner beans in a baking tray and baste over the sauce.
Bake in the oven for 10 minutes.
Garnish with lime zest.
Serve warm.
Notes
By Edward Daniel, Vegan Chef and Former Chair of The Vegan Society. Contributor to Vegan Life Magazine, Plant Based Magazine, Vegan Food and Living Magazine and OK! Magazine. Speaker and cooking demonstrator at Vegan Life Life Festival London, Mind Body and Spirit Festival London, Veganes Sommerfest Berlin, and Bali Vegan Festival. Author of "Essence: The Beginner's Guide to Veganism".