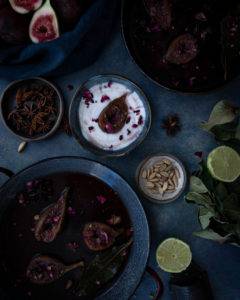 Rose and Hibiscus Poached Figs
Rose and Hibiscus Poached Figs was inspired by wanting to create something that was non-alcoholic and had that lush rouge look to it but had a fruitiness to it. I love how the rose and hibiscus meld with the figs to create a great snack or after dinner dessert. Great for dinner parties – but really is effortless.
Recipe type:
Dessert, Snack
Cuisine:
Vegan, Paleo, Paleovegan
Ingredients
4 figs
500ml filtered water
100g raw unrefined cane sugar
Few hibiscus petals
1tbs rose petals
2 star anise
3 cardamons pods, cracked
2 bay leaves
Pinch of salt
Garnishing
Zest of lime
Rose petals
Instructions
Melt the sugar in water in a medium pan. Add the whole figs, petals, star anise, cardamom pods, bay leaves and salt. Cook on a medium heat for about 30 minutes. Switch off the heat and allow to cool.
Use a sieve to drain the liquid, and boil the remaining liquid for about 10 minutes until reduced in size.
Once figs are cold, cut in two. Garnish with zest of lime and rose petals.
Serve with natural yoghurt.
EthiVegan by Edward Daniel
Thank you for taking the time to view my recipes, interviews and events pages.  I hope I inspire you to make these recipes and also inspire you to become very best versions of yourself.
You can follow me on Instagram here (@ethivegan) where I have quick one minute update videos and for interviews and cooking demonstrations you can subscribe to my Youtube channel here.  You can watch live cooking demonstrations by subscribing to my Facebook profile here (@ethivegan).
For more information about me – click here
See you soon.
Love.
Edward x
Edward Daniel | Vegan Chef