Rose Hibiscus Poached Figs infused with aniseedy Star anise, cracked cardamon pods, fragrant bay leaves and zest of lime.
Tonsils out. Lips pouted. And, indulge.
This dish will topple any belief that vegan food isn't super tasty.
Make this:
When you're feeling boisterous and yearning for an intoxicating dessert that'll have you punching the air
When you've just returned from the gym and need something lush that'll have you satiated
When you've got a dinner party organised and pushed for time and a dessert you can create in a few minutes is what's needed as you pamper yourself getting ready for the big nights with a few choice mates
Rose and Hibiscus Poached Figs was inspired when having some buddies for games night and wanting to create a glittery atmosphere as we relished in the joy of playing.
Figs are a sacred symbol and symbol of peace, abundance and knowledge. As an aphrodisiac it represents erotic desires and a sign of fertility.
Rose and Hibiscus Poached Figs is vegan and paleo.
What equipment to use
For this recipe, I suggest:
Stove
What to do next
Tag me on @ethiveganquantum on Instagram to show me what you've made and let me know you're happy for me to share.
My recipes are featured in vegan speciality publications: Nourished, Vegan Life, Plant Based and Vegan, Food and Living.
Order my first self-published book, "Essence: The Beginner's Guide to Veganism" part of the three-part Circle of Food series. My second book "Presence: The Ascending Vegan" – which explores how to maintain a vegan practice is out in 2027 – I have compiled all the chapters including recipes.
Going strong since 2013
Love.
Edward x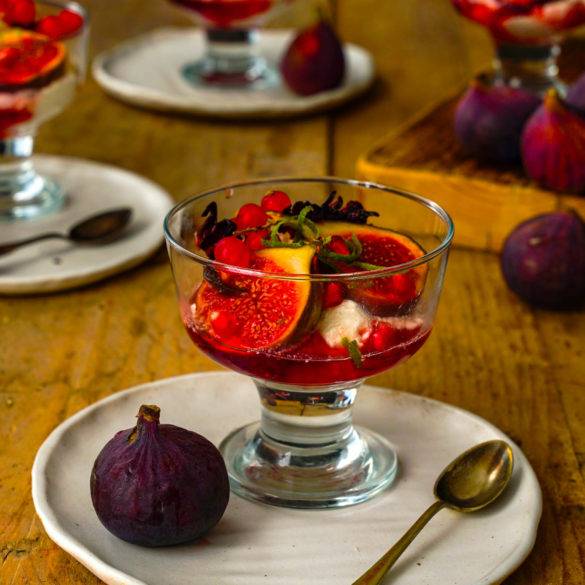 Ingredients
4 figs

200ml filtered water

100g raw unrefined cane sugar

Few hibiscus petals

1tbs rose petals

2 star anise

3 cardamoms pods, cracked

2 bay leaves

Pinch of salt

Garnishing

Zest of lime
Instructions
Melt the sugar in water in a medium pan. Add the rose petals, star anise, cardamom pods, bay leaves and salt. Bring to the boil and simmer for about 20 minutes. Switch off the heat and allow to cool.
Once cool cut the figs in two. Turn over the figs over. Marinade in the juices in a fridge for at least three or four hours.
Garnish with zest of lime.
Serve with natural yoghurt.