Harness the sun's colours. And, glow.
Pressured creamy velvety turmeric chana dal topped with a curry leave, mustard and cumin seed tadka; Tadka Dal.
This dish will topple your belief you can't make vegan food with a few choice ingredients.
Make this:
When it's time to lounge and a relaxing wholesome dish that'll perk your energy levels up
When you've got a curry night with the lads, and a quick and dirty curry rustled up in no times to complement the poker…
When you've got Tom popping over for a natter and a dish that'll satiate his hunger pangs in no times – as well as yours
Tadka Dal was inspired from dad's cooking. This was one of his great signature; simple, yet unapologetically wholesome and nutritious.  It is one of my favourite go to recipes after a long day at work. I love it because of its elegance and taste. It excites me how different restaurants and take away each have their take on this dish.
This is a cheap, simple dish to make with only a few choice ingredients necessary to lift it.  Indeed, you don't need the garnishing's, the chana dal on its own is enough.
Tadka Dal is thought to originate from the Mughal empire. The tadka connotes the whole spices lightly tempered in hot oil.  Takda dal is popular throughout the Indian sub-continent.
Tadka Dal is vegan.
Love.
Edward x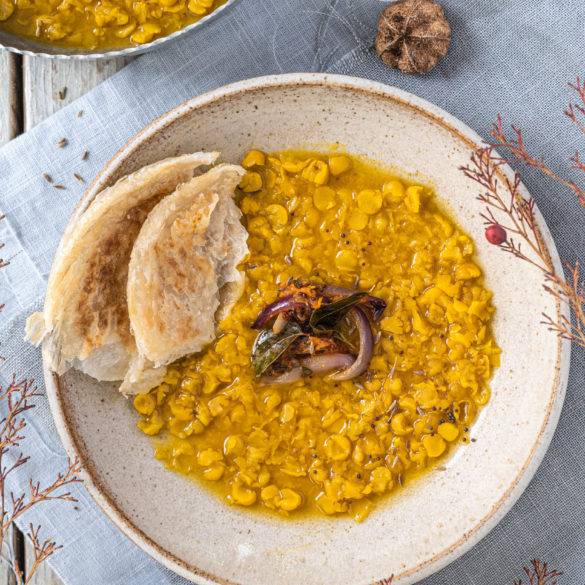 Ingredients
200g chana dal

800ml filtered water

1tbs turmeric powder

1/2tsp salt

For tadka

1 medium tomato

2g curry leaves, dry

Onion

2tbs olive oil

2 cloves of garlic

1tbs mustard

1tbs cumin seeds

1tsp tomato puree

½ inch fresh ginger

1 chilli (optional)
Instructions
Pre-soak the dal overnight or at least for six hours. Drain any excess water.
In a high-speed blender, grind the dhal in 800ml of fresh filtered water.
Pressure cook the dhal with water, turmeric powder and salt for about 30 minutes. Season to taste.
To make the tadka, blend the tomato with the half the curry leaves and optional chilli. Set to one side.
Sauté the onion in oil until translucent. Add the blended tomato and curry leave mixture, together with the remaining ingredients. Heat under a medium heat for a few minutes.
Garnish the tadka on top of the dal.
Serve – with some nice naan, roti or paratha.