Aromatic mint-pine-like Rosemary scented and fleshy Red Onion scattered over an Italian olive oil pillowy Focaccia bread.
Get dribbling with some sweet-scented Focaccia in your pecker. And, savour.
This dish will topple your belief that vegan food can't be made with simple household ingredients.
Make this:
When you fancy appetising homemade Italian bread at home and can't be bothered to go to deli/bakery that may be a distance to travel
When you've got the girls over for a bash and you want some artisan bread to go with antipasti and soak up that tipple
When the rain's slashing down, you can't be bothered to get off your backside to the Italian restaurant, but can be to make something reminiscent of it
Rosemary and Red Onion Focaccia was inspired when sipping a bottle of pink wine while sitting on a terrace with an ex-beau waiting for the opera to start in Verona.
Focaccia is a flat leavened bread similar to pizza dough and oven baked Italian bread.  In Roman times it was baked in coals. It harks from Ancietn Greek and Etrusian cultures and is these days closely connected with Ligurian cuisine.
Rosemary and Red Onion Focaccia is vegan.
What to do next
Tag me on @ethiveganquantum on Instagram to show me what you've made and let me know you're happy for me to share.
My recipes are featured in vegan speciality publications: Nourished, Vegan Life, Plant Based and Vegan, Food and Living.
Order my first self-published book, "Essence: The Beginner's Guide to Veganism" part of the three-part Circle of Food series. My second book "Presence: The Ascending Vegan" – which explores how to maintain a vegan practice is out in 2027 – I have compiled all the chapters including recipes.
Going strong since 2013.
Love.
Edward x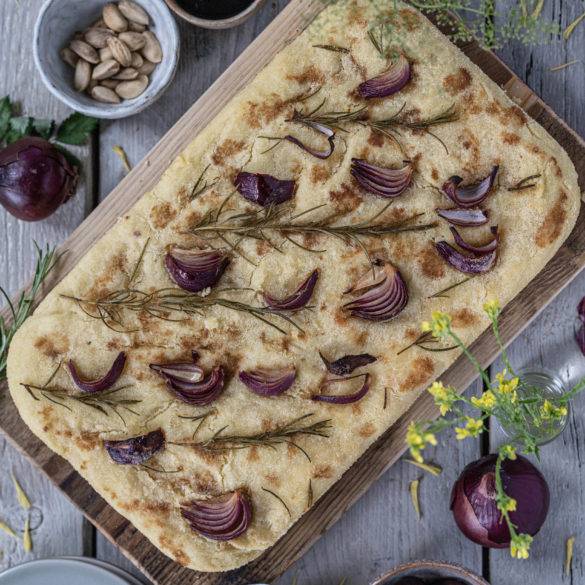 Ingredients
400g "00" doppio flour

1tsp dried yeast or 20g fresh yeast

1tsp raw unrefined cane sugar

185ml filtered water

20g semolina

2tsp sea salt

2tbs rosemary, minced and few sprigs for garnishing

5tbs extra virgin olive oil

1tsp balsamic vinegar

1 small red onion

Sea salt for sprinkling
Instructions
Place the yeast in luke-warm water and sugar and set to one side for about 20 minutes.
In a mixing bowl combine the flour, 10g of the semolina, 1 teaspoon of salt and minced rosemary. Add the yeast liquid and 3 tablespoons of olive oil and knead for about five minutes until you form a soft and sticky dough. Shape into a ball. Cover with a damp cloth and set to one side in a warm place for a couple of hours.
Generously ine an ovenproof square dish with olive oil.
Remove the dough from the bowl and knead with yours hands for about five minutes. Place in a baking tray.
Cover with a damp tea towel and set aside at room temperature for a further one hour.
Preheat the oven to Celsius 180 degrees or if you have a convention oven to Celsius 160 degrees.
Sprinkle the remaining 10g of semolina.
Slice the red onions. Combine balsamic vinegar in one tablespoon olive oil and coat the sliced red onions. Place on top of the dough. Repeat with the rosemary.
Sprinkle on the other teaspoon of sea salt and bake in the oven for about 20- minutes until golden brown.
Turn and cool the focaccia on a wire rack. Serve immediately.