Vegan Besan Ladoos is a tribute to my mother's cooking. She would make this dish when I was young. I love how the nutty flavours of the pistachios and chickpea meld with the aromatic cardamon. This dish is perfect for Diwali.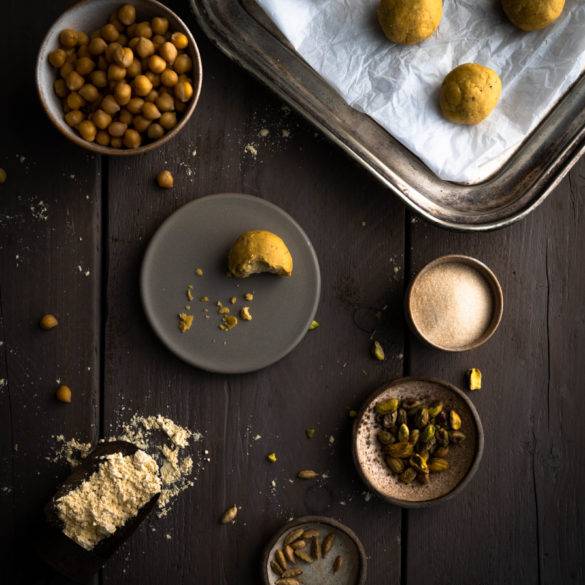 Ingredients
250g chick pea flour (otherwise, known as gram flour)
125g raw unrefined cane sugar
6 cardamoms, de-shelled
25g pistachios
115g coconut oil
Instructions
Into a large non-stick saucepan, sieve in the chickpea flour.
Turn on the medium flame; gently roast the flour, stirring constantly until it turns into a golden brown colour. Be careful, not to burn the flour – which can so easily be done if you are not constantly watching the roasting that is taking place. Turn off the heat and allow to cool down.
Take the sugar and place into a chopper. Whizz for a few seconds and set aside.
Separately, place the de-shelled cardamom seeds in a grinder and ground to a finely powdered texture. Add the pistachios to the grinder and whizz for a few seconds only, to a grainy texture.
Sieve the chickpea flour into a large bowl.
Top tip – I sieve the flour before cooking and after because otherwise the chickpea tends to clump together into small balls, not ideal for the texture, this recipe requires.
Stir in the powdered sugar, cardamom and pistachios to the flour, using a spatula and make sure the ingredients are well combined.
Heat the coconut oil, until it melts and add to the large bowl.
On a flat surface, place some baking paper.
Knead the dough, shape into about balls and place on the baking paper, leaving adequate room.
Leave the balls to stand at room temperature for about an hour. They are then ready to serve.