Vegan Besan Ladoos flavoured with sweet citrus cardamoms, nutty pistachios, aromatic coconut and roasted chick pea.
Get your skates on. And, indulge in pure heavenly Indian confectionaries.
This dish will topple your belief that vegan food can't be super delicious.
Make this:
When Diwali is on the horizon and gorgeous to celebrate your day will ooze with happiness
When you've got an extravagant party and a plush Besan Ladoos will get Aunties screeching with delight
When you'
Vegan Besan Ladoos was inspired by and a tribute to my mother's cooking. She would make this dish when I was young. I love how the nutty flavours of the pistachios and chickpea meld with the aromatic cardamon.
Vegan Besan Ladoos is a vegan dessert, gluten-free and Indian cuisine.
What equipment to use
For this recipe, I suggest:
High speed blender/Grinder
Stove
What to do next
Tag me on @ethiveganquantum on Instagram to show me what you've made and let me know you're happy for me to share.
My recipes are featured in vegan speciality publications: Nourished, Vegan Life, Plant Based and Vegan, Food and Living.
Order my first self-published book, "Essence: The Beginner's Guide to Veganism" part of the three-part Circle of Food series. My second book "Presence: The Ascending Vegan" – which explores how to maintain a vegan practice is out in 2027 – I have compiled all the chapters including recipes.
Going strong since 2013.
Love.
Edward x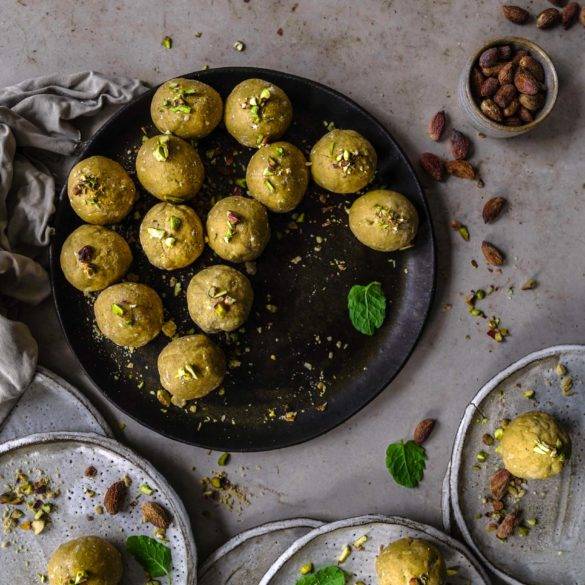 Ingredients
250g chick pea flour (otherwise, known as gram flour)

125g unrefined cane sugar (rapadura or panela work perfectly too)

6 cardamoms, de-shelled

25g pistachios

115g coconut oil
Instructions
Into a large non-stick saucepan, sieve in the chickpea flour.
Turn on the medium flame; gently roast the flour, stirring constantly until it turns into a dark golden-brown colour – make sure it is well roasted and not undercooked. Be careful, not to burn the flour – which can so easily be done if you are not constantly watching the roasting that is taking place. Turn off the heat and allow to cool down.
Take the sugar and place into a high-speed blender. Whizz for a few seconds until fine. Set to one side.
Separately, place the de-shelled cardamom seeds in a grinder and ground to a finely powdered texture. Add the pistachios to the grinder and whizz for a few seconds only, to a grainy texture.
Sieve the chickpea flour into a large bowl.
Top tip – I sieve the flour before cooking and after because otherwise the chickpea tends to clump together into small balls, not ideal for the texture, this recipe requires.
Stir in the powdered sugar, cardamom and pistachios to the flour, using a spatula and make sure the ingredients are well combined.
Heat the coconut oil, until it melts and add to the large bowl.
On a flat surface, place some baking paper.
Knead the dough, shape into about balls and place on the baking paper, leaving adequate room.
Leave the Besan Ladoos to stand at room temperature for about an hour. They are then ready to serve.
To store place in a sealed container in the fridge. Remove before half an hour before serving.