Baked Salsify Gratin with crushed yellow mustard, bitter parsley, earthy cinnamon, onion, garlic and a hint of lemon.
Tantalise your supple mouth piece. And, sensualise your bite.
This dish will overthrow any belief that vegan food can't be simple to put together.
Make this:
When you fancy something lush to go with your Sunday Roast
When the rain is pelting it down and need a little luxury comfort food
When dinner party galores beckon and you need a side to impress and dribble over
Salsify Gratin was inspired when I'd spotted salisfy at my local farmer's market and wanted to bake a little something special for holiday season.
This savoury dish is vegan, paleo and gluten-free.
What equipment to use
For this recipe, I suggest:
High speed blender
Oven
What to do next
Tag me on @ethiveganquantum on Instagram to show me what you've made and let me know you're happy for me to share.
My recipes are featured in vegan speciality publications: Nourished, Vegan Life, Plant Based and Vegan, Food and Living.
Order my first self-published book, "Essence: The Beginner's Guide to Veganism" part of the three-part Circle of Food series. My second book "Presence: The Ascending Vegan" – which explores how to maintain a vegan practice is out in 2027 – I have compiled all the chapters including recipes.
Going strong since 2013.
Love.
Edward x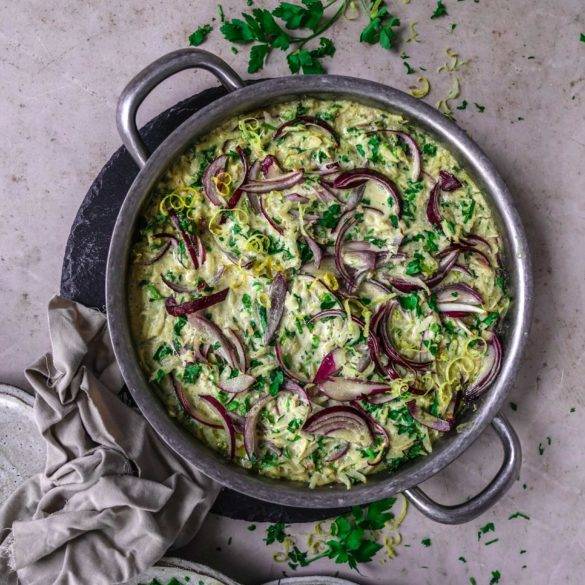 Ingredients
500g salsify

½ lemon, juice and zest

1 onion

2tbs olive oil

400m coconut milk

50g almonds

20g nutritional yeast

2 cloves of garlic, minced

1/2tsp crushed yellow mustard (or just English mustard)

1/2 tsp cinnamon

Few sprigs of parsley

Pinch of salt

Black pepper
Instructions
Preheat oven to 180 degrees Celsius or if a convection oven to 160 degrees Celsius, if a convection oven.
In a high-speed food blender, finely grind the almonds. Pour in the coconut milk and crushed mustard. Continue whizzing. Transfer to a large mixing bowl. Toss in the nutritional yeast, cinnamon, minced garlic and salt. Combine well.
Sauté onion in olive oil until translucent and transfer to the mixing bowl. Pour in the lemon juice.
Peel, wash and grate the salsify. As you grate each salsify stick transfer into the gratin mixture.
Toss in the chopped parsley. Combine well and transfer the gratin mixture to baking dish.
Cover with aluminium foil and bake in the oven for 30 minutes. After the first 20 minutes remove the foil.
Serve warm. Add freshly ground black pepper and lemon zest just before serving.