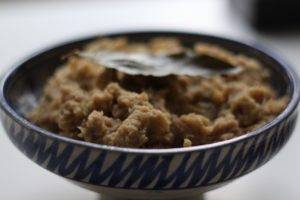 Sautéed Celeriac Parsnip Mash
Celeriac and parsnip when sautéed give this luscious taste when combined; this dish is a great side accompaniment.
Cuisine:
Vegan, Vegetarian, Paleo, Paleovegan
Ingredients
700g celeriac, diced
500g parsnip, diced
3tbs extra virgin olive oil
2 rosemary sprigs
2 thyme sprigs
2 bay leaves
4-cardamom pod
3 cloves of India
500ml filtered water
Instructions
In a medium sized saucepan, place the rosemary, thyme, bay leaves, cardomon pods, cloves of India and water.
In a large frying pan, sauté the celeriac and parsnip in batches in olive oil until golden brown. Add to the saucepan.
When ready to serve, cover the saucepan with a lid and cook until the celeriac and parsnip have softened. This should take about 15 minutes over a medium heat.
Switch off the heat and remove the herbs and spices. Transfer the celeriac and parsnip mixture to a food processor and mash to a fine pulp. Serve immediately.
Notes
Nutritional Analysis
Good points
• No cholesterol
• High in dietary fiber
• Very high in manganese
• High in phosphorus
• High in potassium
• Very high in vitamin C
Nutrition Information
Serving size:
220g
Calories:
135
Fat:
5.8g
Saturated fat:
0.9g
Sugar:
4.4g
Sodium:
96mg
Fiber:
5.1g
Protein:
2.2g
Cholesterol:
0
_____________________________________________________
EthiVegan by Edward Daniel
Thank you for taking the time to view my recipes, interviews and events pages.  I hope I inspire you to make these recipes and also inspire you to become very best versions of yourself.
You can follow me on Instagram here (@ethivegan) where I have quick one minute update videos and for interviews and cooking demonstrations you can subscribe to my Youtube channel here.  You can watch live cooking demonstrations by subscribing to my Facebook profile here (@ethivegan).
For more information about me – click here
See you soon.
Love.
Edward x
Edward Daniel | Vegan Chef