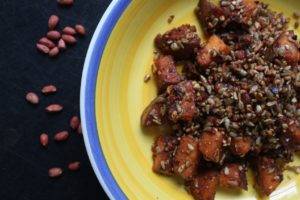 Sautéed Peanut Roasted Sweet Potatoes - #vegan #vegetarian #paleo #paleovegan
Sautéed Peanut Roasted Sweet Potatoes came about because I had purchased a mountain of sweet potatoes and I just needed to consume them. Sweet potatoes are versatile – they can be eaten raw, baked, boiled and sautéed. I love them.
Cuisine:
Vegan, Vegetarian, Paleo, Paleovegan
Ingredients
2 medium sized sweet potatoes
2tbs coconut oil
50g sesame seeds
50g peanuts
2tbs extra virgin olive oil
2tbs organic tamari sauce
½ juice of lime
salt and pepper to season
Instructions
Preheat oven to gas mark 180 degrees Celsius.
Soak the seeds in filtered water.
Place the sweet potatoes in an ovenproof dish. Using a pastry brush, brush over the coconut oil. Bake in the oven for about 30 minutes until you are able to slide a knife through the potato with ease. Set to one side.
Drain the water from the seeds.
Place the peanuts into a food processor and roughly chop.
Chop the sweet potatoes into cubes. Sauté the potatoes in the olive oil for a couple of minutes. Toss in the seeds and peanuts. Continue frying until the potatoes start to brown. Switch of the heat.
Add the tamari sauce and lime juice.
Season to taste.
Serve.
EthiVegan by Edward Daniel
What future would you like to paint? What I say is that it is possible to lead a fulfilling life by going within, living in alignment, letting go of the past and thriving on a vegan diet.
If you want to uncover your purpose and live a more enriching life, why not purchase my book "Essence: The Beginner's Guide to Veganism"?
To order your copy of "Essence: The Beginner's Guide to Veganism" click here
Subscribe to my EthiVegan Youtube channel – click here
For more information about me, Meet the author – click
Thanks for viewing my recipes and interviews.
Love you all.
Edward x
Edward Daniel | Servant to Humanity | Second Wave | Chef | Media IT IP Solicitor | Author | Presenter | Former Chair, The Vegan Society