Spanakopita I love because these little bundles as they provide a scrumptious dish.  I use Yufka leaves but it is possible to use filo pastry instead. This dish reminds me of my time in Greece but is adapted.  I use spinach, mushroom and walnuts as my filling but you could experiment with other ingredients.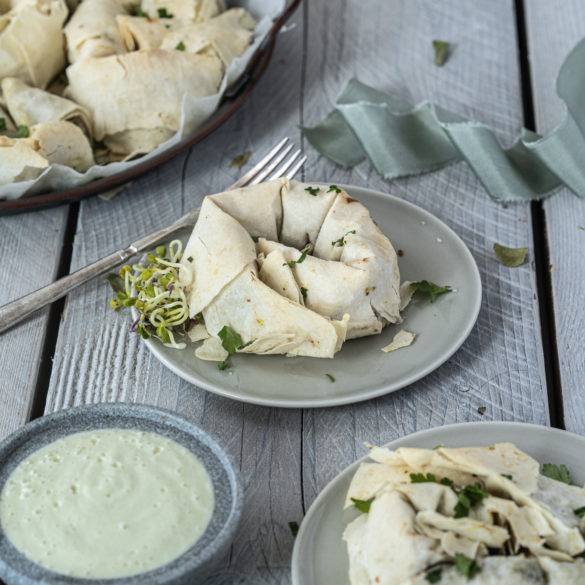 Ingredients
400g Spinach
4tbs olive oil
2 portobello mushrooms, chopped
100g walnuts
20g flaxseeds, ground
Bunch of spring onions, finely chopped
3 garlic cloves, minced
Few sprigs of parsley
1/2tsp nutmeg, ground
Pinch of paprika
Seasoning
500g Yukfa pastry
Oil for basting
Instructions
Sauté the spring onion in a couple of tablespoons of olive oil for a couple of minutes. Toss in the spinach. Cover and cook until the spinach melts. Transfer to a large mixing bowl.
Sauté the mushroom in a couple of tablespoons of olive oil and reduce in size. Add to the mixing bowl.
Roughly chop the walnuts and add to the mixing bowl with the flaxseeds, chopped parsley, garlic, nutmeg and paprika. Season to taste the filling.
Preheat the oven to gas mark. 180 degrees or if convection oven to 160 degrees Celsius.
Line the Yukfa pastry leaves with oil and place the filling so that the filling forms a long thin line of around 11 inches. Roll over the pastry. Baste the oil around the pasty and fold over into a spiral. Don't worry about breaking the pastry as this gives it a rustic look.
Bake in the oven for 20 minutes.
Serve warm with yoghurt or with tzatziki.