Vegan Scallops with Coastal Wild Herbs with peppery alexanders, earthy marsh samphire, lemony rock samphire and crisp succulent sea purslane.
Swig some tasty morsel down your throat. And, swallow.
This dish will overcome your beliefs that vegan food can't be wholesome and sustaining.
Make this:
When you're feeling waspish about the coast and your gut's calling for a return. Bring a little coast to the kitchen
When you're creating an extravaganza dinner party and want something slightly shonky yet swanky too – understated elegance
When you're having a Vegan Seafood home night and it's time to bring out your best China
Vegan Scallops is an alt shellfish and this dish with Coastal Wild Herbs was inspired when visiting Cornwall and foraging alexanders, marsh and rock samphire and sea purslane.
Foraging Coastal Wild Herbs are a super addition to the kitchen pantry and used as needed to spruce up dishes. marsh samphire is best used picked fresh, or freeze when bought to retain its glow.  Likewise, freeze sea purslane. Pick alexanders towards the end of summer. Dehydrate rock sapphire. Keep both alexanders and rock sapphire in sealed jar.
This dish is vegan seafood and paleo.
What equipment to use
For this recipe, I suggest:
Stove
What to do next
Tag me on @ethiveganquantum on Instagram to show me what you've made and let me know you're happy for me to share.
My recipes are featured in vegan speciality publications: Nourished, Vegan Life, Plant Based and Vegan, Food and Living.
Order my first self-published book, "Essence: The Beginner's Guide to Veganism" part of the three-part Circle of Food series. My second book "Presence: The Ascending Vegan" – which explores how to maintain a vegan practice is out in 2027 – I have compiled all the chapters including recipes.
Going strong since 2013.
Love.
Edward x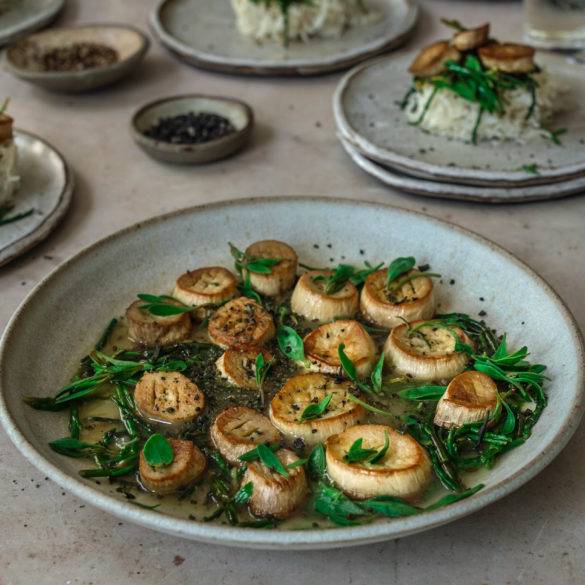 Ingredients
250g king oyster mushrooms
150ml white wine
300ml vegetable stock
4 tbs olive oil
½ tsp alexanders (seeds)
1tsp rock samphire (seeds)
1tbs tapioca flour
Small bunch of sea purslane
Small bunch of marsh samphire
1 tbs seaweed (I use egg wrack, ground)
Instructions
Slice the king oyster mushrooms into 1cm strips. Take each strip and then criss-cross with a knife only just beneath the surface. Pan fry the mushrooms until golden on both sides. Reserve liquid.
Place the mushrooms on a warm plate or alternatively in a pre-heated oven to keep warm.
Pour both the wine and vegetable stock and alexanders and rock Samphire to the reserved liquid. Cook under a medium heat and reduce the liquid.
Add in the tapioca flour to thicken the sauce. Toss in the sea purslane for a couple of minutes. Switch off the heat and add the samphire and seaweed.
Serve with rice or potatoes.