Semiya – Vermicelli Kheer is a sweet creamy aromatic Indian dish.  What I love about this dish is that it is really easy to put together and suits those sweet hunger pangs.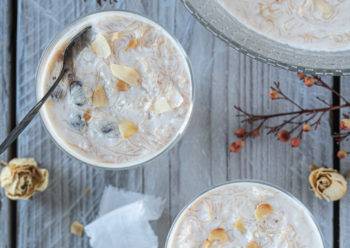 Ingredients
75g vermicelli
200g almonds, blanched
1 litre filtered water
150g raw unrefined cane sugar
50g sultanas
25g coconut shreds
½ tsp nutmeg
5 cardamon pods, seeds
Garnishing
Toasted almond flakes
Instructions
Place the vermicelli in a large pan.
Blend the almonds with water in a high-speed blender and add to the pan.
Heat the pan under a low flame and temper for about 10 minutes. The semiya should soften up.
Add the sugar to the semiya with the sultanas and coconut. Combine well.
Grind the nutmeg and seeds in a grinder. Add to the semiya.
Place in serving dishes or bowls.
Serve warm or alternatively, chill in the fridge. Garnish with toasted almond flakes.
Notes
By Edward Daniel, Vegan Chef and Former Chair of The Vegan Society. Contributor to Vegan Life Magazine, Plant Based Magazine, Vegan Food and Living Magazine and OK! Magazine. Speaker and cooking demonstrator at Vegan Life Life Festival London, Mind Body and Spirit Festival London, Veganes Sommerfest Berlin, and Bali Vegan Festival. Author of "Essence: The Beginner's Guide to Veganism".