Semiya – Vermicelli Kheer is a sweet creamy aromatic Indian dish.  What I love about this dish is that it is really easy to put together and suits those sweet hunger pangs.
Blanched almonds and pistachio nuts, I purchase from a nifty Asian outlet in Hayes.  It has an online presence too which can be found here – I love it because it is reasonably priced and tends to be good quality stuff which I use.
What to do next
Tag me on @ethiveganquantum on Instagram to show me what you've made and let me know you're happy for me to share.
My recipes are featured in vegan speciality publications: Nourished, Vegan Life, Plant Based and Vegan, Food and Living.
Order my first self-published book, "Essence: The Beginner's Guide to Veganism" part of the three-part Circle of Food series. My second book "Presence: The Ascending Vegan" – which explores how to maintain a vegan practice is out in 2027 – I have compiled all the chapters including recipes.
Going strong since 2013.
Love.
Edward x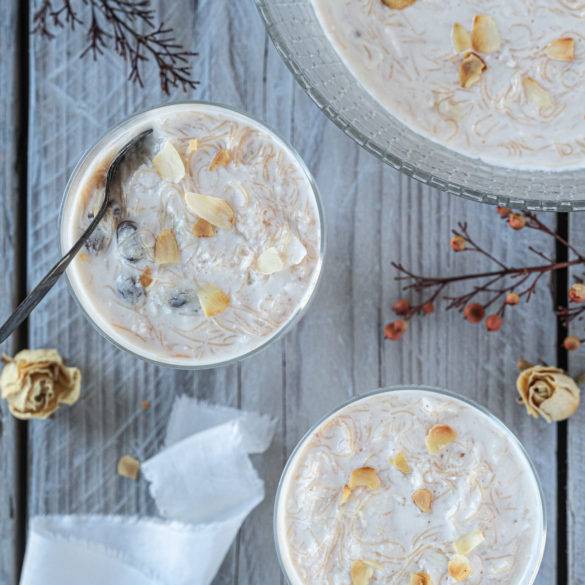 Ingredients
75g vermicelli
200g almonds, blanched
1 litre filtered water
150g raw unrefined cane sugar
50g sultanas
25g coconut shreds
½ tsp nutmeg
5 cardamon pods, seeds
Garnishing
Toasted almond flakes
Instructions
Place the vermicelli in a large pan.
Blend the almonds with water in a high-speed blender and add to the pan.
Heat the pan under a low flame and temper for about 10 minutes. The semiya should soften up.
Add the sugar to the semiya with the sultanas and coconut. Combine well.
Grind the nutmeg and seeds in a grinder. Add to the semiya.
Place in serving dishes or bowls.
Serve warm or alternatively, chill in the fridge. Garnish with toasted almond flakes.