Hearty kidney bean burger with cumin, coriander, carrots, onion, ginger and piquant chipotle; Spicy Mexican Bean Burger.
Bite into something sublime as the fleshiness touches the sides.
This dish will obliterate any belief that vegan food can't be super wholesome.
Make this:
When the summer is screaming and a little heat in your food will your pecker a twist of delight
When you're craving for something vegan meaty to go with some crunchy chips, vegan mayo and blackberry ketchup. Nice one
When you've just had a massive hike up Snowdonia with your mate. And, need a lush wholehearted meal that you can dig into. All those aches and pains in those tender muscles make it all worth it
Spicy Mexican Bean Burger was inspired when experimenting with vegan food. I had wanted to create a fleshy recipe. These burgers make a great fake-away. Not only do the patties keep, but it is so welcoming to come home after a day at work, and know that there is something easy to rustle up from the fridge.
This savour dish is vegan and gluten-free.
What equipment to use
For this recipe, I suggest:
High-speed blender
Food processor
Oven
What to do next
Tag me on @ethiveganquantum on Instagram to show me what you've made and let me know you're happy for me to share.
My recipes are featured in vegan speciality publications: Nourished, Vegan Life, Plant Based and Vegan, Food and Living.
Order my first self-published book, "Essence: The Beginner's Guide to Veganism" part of the three-part Circle of Food series. My second book "Presence: The Ascending Vegan" – which explores how to maintain a vegan practice is out in 2027 – I have compiled all the chapters including recipes.
Going strong since 2013.
Love.
Edward x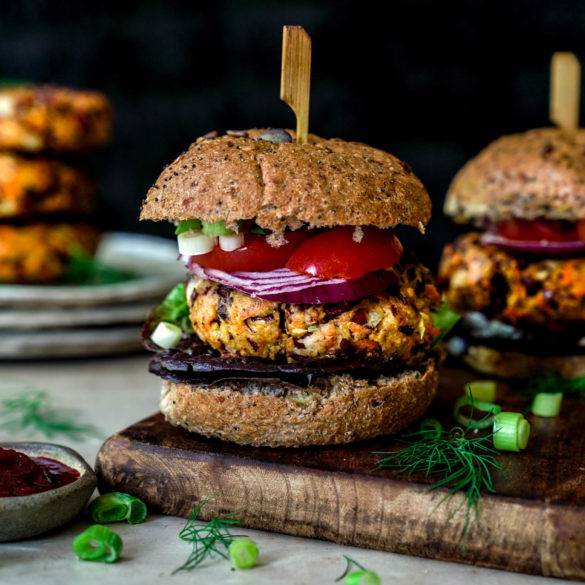 Ingredients
200g red kidney beans

2tbs olive oil

2 medium carrots

1 onion, diced

1 inch ginger, grated

2 garlic cloves, minced

1tbs cumin, ground

1tbs coriander, ground

1 chipotle or other chilli, deseeded and chopped

50g flaxseeds

50g oats

Oil for frying or basting
Instructions
Soak the kidney beans in water overnight.
In a high-speed blender grind the flaxseeds and oats. Toss into a large mixing bowl.
Pressure cook the beans for 25 minutes. Drain. Once cool, transfer to a food processor to roughly mash. Transfer to the mixing bowl.
Sauté the diced onions in oil, until translucent. Transfer to the large mixing bowl with the spices, onion, ginger and garlic. Toss in the deseeded chipotle too.
Combine into the mixture and leave to rest for 30 minutes before shaping.
Using damp hands, shape into 6 patties and chill in the fridge for a couple of hours or overnight.
Top tip
I find that chilling the patties ensure that the patties retain their shape when cooking.
When ready to eat, fry the patties in oil for about 5 minutes each side, until nicely browned on both sides. Alternatively, if barbequing baste both sides of the patties with oil and place on the BBQ grill.
Serve in a bun with salad.