Puffed rice coated in dark chocolate, golden syrup with dried mixed cranberries, raisins, sultanas and cherries; Chocolate Puffed Rice Cakes.
Revel in scrummy lushness. And, take a wee bite.
This dish will obliterate any belief that vegan food can't be easy to rustle up.
Make this:
When you fancy giving the kiddies a quick baking lesson that'll have them joining in the fun. And, then munching with exuberance on their creative wares
When you're up for a quick and dirty dessert that'll have your mouth, all oozing with chocolate as you dribble with delight
When you've got a kiddies birthday party that has you rushing round. Respite comes with making these mouth-watering little delights
Chocolate Puffed Rice Cakes was inspired my childhood memories of having these little lovies at school fetes. And, loving how lush these treats really were.
These cakes are a children's classic and such a simple recipe to execute. Kids love mucking in. I love the mixed berries which add a bit of colour and zing to this recipe. Puffed rice is gluten free but in contrast, rice krispies, contain barley malt. Rice krispies can be substituted for puffed rice, if puffed rice is unavailable, though.
These cakes are vegan and gluten-free.
What equipment to use
For this recipe, I suggest:
Muffin cake tins
Stove
What to do next
Tag me on @ethiveganquantum on Instagram to show me what you've made and let me know you're happy for me to share.
My recipes are featured in vegan speciality publications: Nourished, Vegan Life, Plant Based and Vegan, Food and Living.
Order my first self-published book, "Essence: The Beginner's Guide to Veganism" part of the three-part Circle of Food series. My second book "Presence: The Ascending Vegan" – which explores how to maintain a vegan practice is out in 2027 – I have compiled all the chapters including recipes.
Going strong since 2013.
Love.
Edward x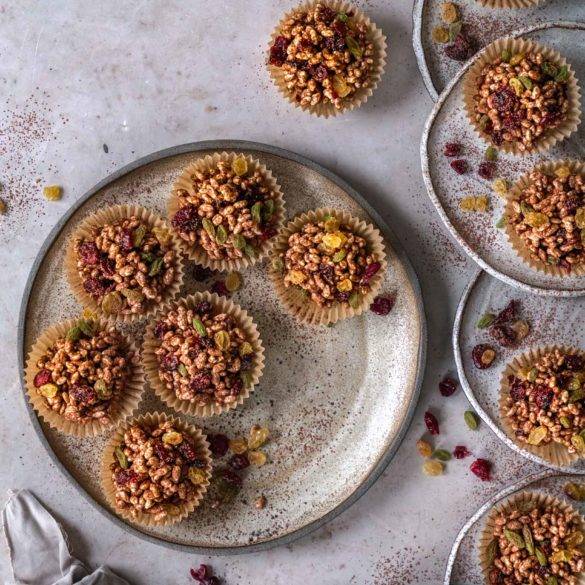 Ingredients
100g dark chocolate

15g coconut oil

3 tbs golden syrup

100g puffed rice

75g dried mixed berries and cherries (combination of raisins, sultanas, cherries, cranberries and blueberries)
Instructions
Line a muffin tin with cake cases.
Create a Bain Marie by suspending a large heatproof bowl over a pan of simmering water on a low flame. (Do not allow the base of the bowl to touch the base of the pan). It should be a low flame. Melt the coconut oil in golden syrup. Add the chocolate and use a spatula to stir until melted.
Toss in the puffed rice. Coat with the chocolate.  Use a spatula to ensure well covered.
Toss in the mixed berries. Remove from heat. Mix well.
With a spatula, work quickly to spoon the mixture into the cake cases.  Leave to set in the fridge for at least a couple of hours.
Serve.
Store in sealed plastic container to retain freshness.